Good evening folks and welcome to the 56th edition of the MunchyMC Newsletter! We hope you all had a great, safe and happy September! Let's jump right into this months Newsletter, shall we?
---

Main Server(s) on Forums Profile
You can now display what gamemode(s) you main on your forums profile! To do this, go to your Preferences page and then scroll down in the Profile section.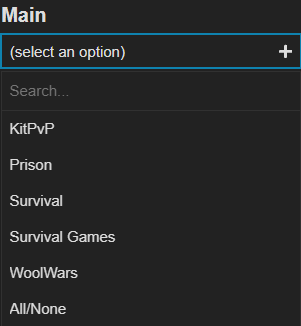 Discord & Media Team Changes
In our community discord server you can now obtain roles to be pinged for things regarding specific gamemodes or new uploads and streams from our media team members by reacting to a message in the #joinable-roles channel.
@DutchMTC is also the new Co-Manager of the Media Team, congratulations!

Written by Atterax.

---
◈ More info on the new combat system here:
---
Written by DutchMTC.

September Changelog Highlights
New Items!
Wow, what a month to be a looter! Let's recap…
This month we saw an addition of a new mythical rare, a new ultra rare and 2 new farming epic rares and a new semi rare!
If you've got a stockpile of ultras, you'll also be happy to hear that 4 new ultra legendaries have become craftable for the following ultras: Gepetto's Woodcarver, Rumplestiltskins Pickaxe, Jack's Beanstalk and Mermaid Hair.
(Hint: remember that you can craft ultra legendaries by combining 8 of the same ultras in a crafting bench with an ultra legendary shard.)
Blackmarket Signs!
You can now create blackmarket buy and sell signs to place in your cell! To place a buy sign you can use /bm buysign (price) and to create a sell sign you can use /bm sellsign (price).
Netherite Upgrades!
Woooooooooo netherite itemsssss!!! You are now able to upgrade all of your tools, semi-rares and donator armor from diamond to netherite. If you are wearing netherite armor, you gain +7% damage reduction per piece of netherite armor worn!
---
Map 9 Leaderboards
This is your reminder that we have over $1000 IN PRIZES being rewarded to those who are ranked the highest across the following categories at the end of the map!
Highest Rank
#1 - ursofamily - (XIII)(New)
#2 - Chance1337 - (XI)(B2)
#3 - Shoblette - (XI)(B1)
Most Ultras Found
#1 - xLuuk_ - 1,063
#2 - TSUTT_ - 941
#3 - Lxshirox - 649
Top Fisher
#1 - PapaCoach - 90L
Top Logger
#1 - Elyas990 - 124,349
Top Miner
#1 - Shoblette - 13,866,171
Top Farmer
#1 - Shoblette - 553,889
Written by dxlicaterose.

---
Hey there folks and welcome to the Survival section of the September Newsletter! I hope you all had a safe return into school (to those who do school ofc) and to the others, just had a happy and safe September! Let's jump right in, shall we?
---
I. [CLOSED] Fairytales Build Competition!
---
This month brought an end to the month long Fairytales Build Competition hosted by the lovely @Alkemystix and judged by the smelly @EvillRat, the amazing @LunaInSpace and the also smelly @ZeePog (Jokes. Kinda)!
All of the entries to the comp look absolutely stunning, and hopefully results will be out within the next few days! However, lets jump into what the top 3 shall win!
(psst results are out : [SURVIVAL] Fairytales Build Competition - WINNERS - Announcements - MunchyMC Forums )
---

1st Place:


Exclusive Glow Effect of Choice
15 Crate Keys of Choice
1 Month ++ Rank

2nd Place:


Exclusive Glow Effect of Choice
10 Crate Keys of Choice
1 Month + Rank

3rd Place:


Exclusive Glow Effect of Choice
8 Crate Keys of Choice
1000 Gold
---
Good luck to all the people joining the competition! All the builds were stunning and I'm sure the judges will have a hard time picking a winner!!

---
II. Something Spooky Is Brewing…
The players of Survival spend their whole in game lives walking (flying) past lakes, rivers, and oceans. Unsuspecting places. Upon looking at one, you never expect anything to be looking back. However, there's been some recent complaints of the lake in spawn, is there spooky scaries inhabiting it? Is there something evil at play? You'll have to find out this October. Keep your eyes peeled, your fishing rods at hand, maybe all things aren't as they seem to be…
---
And with that, we have come to the end of this short but sweet Survivalalal section of the Newsletter! Hopefully there's more to showcase next month with the Spooooooky season!! Have a good October folks, a happy Halloween if you celebrate and stay safe!! One more question before I go however… what's your favourite scary movie? If you know, you know. See you next month!

Written by infernalfae.
Community Art Highlights!
Hey, everyone! This month we have lots of cool artwork from our amazing community members to show you, enjoy!
Click here

---

kr1tzie

---

Spidersnake

irb


Illustration of Tarteris


Illustration of RobinLaggedOut


Illustration of nataffy


---

Brooke_sun

---

JAMILHERE123

---

Paint22

---

Hoaxspiration

---

IAmNotOakyBush

---

l_otachan_l

---

Brotherawesome

---

May__Z

---

Guys_

---

fluffnado

---

starlantern

---

JaredTsvetkov

---

PenguinFries706

---

Viviannn

Illustration of SkoPie_


---

Mysaan

Illustration of EvillRat


---

Repuffin

Illustration of amy2017


---

Icee

---

Hope you enjoyed these pieces as much as I did, keep an eye on the artwork channel in the community discord and the next newsletters for more! :)
Written by Atterax.
---
---