---
MunchyMC Newsletter: Edition 33 - October 2020
Welcome to the 33rd edition of the newsletter! I hope you had a great halloween - we sure did on Munchy! Let's see what happened this month

- BFI01
---
Promotions
Senior Moderator

- DragonsMaker has been promoted to Survival Senior Moderator!


- Aiadeva has been promoted to Survival Senior Moderator!


- EeveeNoises has been promoted to Wool Wars Senior Moderator!


- RossRao has been promoted to Survival Senior Moderator!
Junior Moderator

- AlluTheVallu has been promoted to Survival Junior Moderator!


- Xiistaf has been promoted to Survival Junior Moderator!
Helper

- CookieCrazyDawn has been promoted to Survival Helper!


- Alkemystix has been promoted to Survival Helper!


- Ayella has been promoted to Wool Wars Helper!


- lemonnn has been promoted to Survival Games Helper!
Event Team

- G0LFA has joined the Event Team!
Written by BFI01.
---
--|~News!~|--
KitPvP Highlights!
KitPvP saw the return of everyone's favorite Halloween map made by @Hi_Im_Mikey, as well as the minor spooky update with ender chests spawning randomly around the map. While KitPvP has been quiet otherwise, we're hoping the next few months bring some more substantiaal news.
Written by Mikeal.
Prison Highlights!
Prison map 7 will be coming to an end shortly, so this month I asked all of the prison staff members some questions to reflect on the map!
Click on the questions to view their answers.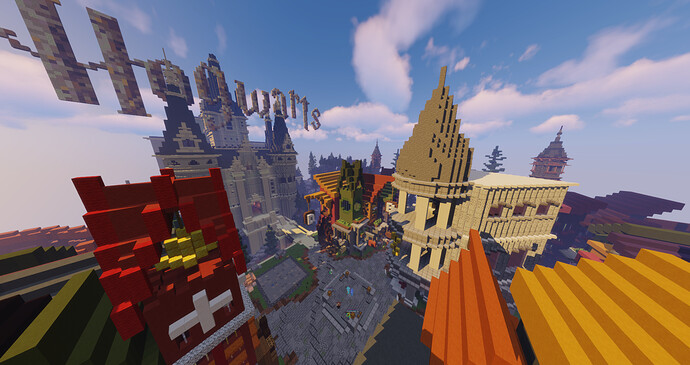 Questions:
---
"What was your favourite rare item from map 7?"

saladbutter
"It's really close between Santa Sack and Resurrection Stone, I like the convenience that the Santa Sack gives you, but also the Resurrection Stone has been underrated this whole map until late game and I don't know why, it essentially guarantees you immunity outside."

whippingcream
"newt ankle"

Xiistaf
"Hands down has to be the Gemino Cursed Bow, being able to blast your friends or enemys more than 35 blocks has to be the best item."

KamiAF
"My favorite rare item would definitely be either the Santa Sack or the Tom Riddle's Pickaxe. Mostly the Tom Riddle's Pickaxe because it was a unique mining mythical, compared to last map's mining mythical which was just a fortune pick. The Santa Sack would be my second choice because it is really satisfying to loot with it."

ImMCMMO
"The legendary fishing rod"

Cookiedough777
"my favorite item is the mafia bat because I like to hit people"

Gould_
"My favorite item from map 7 is probably Newt Ankles"

Joha4732
"My favourite rare item from map 7 must be the Easter Egg! It allowed you to use it in slots every 4 hour giving you a high chance of getting an ultra and small chance of getting a legendary! And as if that was not enough you could collect a bunch of Easter Eggs and use all of them in the slots because they have a cooldown based on each individual item and not based on the player using them! This way it actually made sense to collect multiple of the same rare item which I think is great for game where collection plays such a big part as prison!"

NuggetNed
"Fav rare was the draco hair"

dxlicaterose
"Would have to be the Phoenix Wings. It's really fun to pick someone up and drop them; especially in prisonbreaks!"

RedVelvetCake
"Pickpocket eyes, looking in cells is fun"

Antfrost
"Bellatrix boots take the cake this map. It's just really fun to fly around the outside world on trolls."
What was your favourite feature introduced in map 7?"

saladbutter
"My favorite (favourite for you CA/EU/AU lames) feature introduced in map 7 is easily the /stats command. I like being able to see my progression in chests looted, ultras/legendaries/mythicals found, and also just checking out other player's progession."

whippingcream
"consisnatpbs"

Xiistaf
"Fishing. Fishing was a great way to just chill and relax, also yielding great rewards when you get to the higher levels. With the addition of dumbledore reels, fishing became the main way of making crazy amounts of money if you combo it with farming. Plus if you're lucky enough with the donator crates you can get from fishing. you can make some serious money."

KamiAF
"My favorite feature is probably being able to see the leaderboard in-game and the /stats outside system. I like being able to see the chests I've looted and how many rares I've found."

ImMCMMO
"Fishing "

Cookiedough777
"my favorite feature was the fishing. It is a very unique and easy way to make money and obtain items."

Gould_
"My favorite feature introduced in map 7 is fishing"

Joha4732
"My favourite feature introduced in map 7 was without doubt the fishing feature! I love the idea about fishing in minecraft and it finally makes sense to spend time fishing in prison! It also opens up for multiple ways of making your fortune which I think is very important so it is not all about mining and looting! I also think the farming feature does this which is why I also loved the addition of farms and farming to the prison!!"

NuggetNed
"Fav feature was the reintroduction of prison break even though I never played a game of it, I loved watching the community play!"

dxlicaterose
"Definitely the new farming system. The process of obtaining higher tier drugs was much more enjoyable and rewarding than the farming system introduced in map 6 (where farming was effortless free money). I had loads of fun designing efficient farm cells to reap the most benefits from farming, and upgrading my farm based on new rares."

RedVelvetCake
"New farming system - The one last map eventually turned into just walking around a cell of cocoa beans and making bank, so I think making the system more dynamic with having to harvest different tiers of crops was an improvement."

Antfrost
"Definitely prison break returning. I know it made it's premier in map 4, but I think the new updated version is amazing and much better than it's original. "
"What are you most excited about for map 8?"

saladbutter
"Of course not every new feature has been announced for map 8, but I'm definitely most excited for the start of the map. The start of the maps are always my favorite time when everyone is grinding their hardest to get the best items and become the richest on the server, and I like how competitive it is between rival gangs."

whippingcream
"THE NEW THEME AND RAREAS"

Xiistaf
"Looting. Very interested in how looting is going to function next map as its completely different to how map 7 worked! With the newly teased gang level system and the allied and enemies feature being teased I'm VERY excited to see what else is added and levelling up our gang!"

KamiAF
"I am most excited for the new prestige system that's going to be introduced, and the theme :)"

ImMCMMO
"The new prestige points system!"

Cookiedough777
"I am excited to be able to start from scratch and build up my collection again."

Gould_
"I am most excited about hopefully more movement rares"

Joha4732
"I am always excited when a new map comes out but if I had to say just one thing then I really look forward to the new prestige system! Being able to choose the perks that fits you the best is definitely one of the best features introduced to prison in a while and I really look forward to hearing which perks people are choosing and how balanced they are!! Huge thanks to RedVelvet and Varmetek for making all of this possible! "

NuggetNed
"I am most excited to see our new JMod Saladbutter in action "

dxlicaterose
"I'm looking forward to the fresh start from new, with everyone beginning at the same level again. The start of the map is always the most fun where everyone gets excited over ultras being found and figuring out what each item does!"

RedVelvetCake
"The new features being added that I can't talk about!"

Antfrost
"I'm extremely excited for a new looting feature that's being added to this map. It's something that'll add a challenge to looting for even the most experienced of players, and those that master it will get heavily rewarded."
---
There's not long left until reset! Keep an eye out on the forums for new information about map 8.
Written by dxlicaterose.
Survival Highlights!
Build Competition!

Survival currently has a very exciting

Spoopy Build Competition running for all you wonderful builders at the moment!
You can either enter as a duo or a solo builder, but there are rules that you will need to follow when submitting these in order to make sure you don't get disqualified from entry. The competition will close on ** FRIDAY the 13th NOVEMBER** and the winners will be announced a few days later.
Prizes of ranks, crate keys and exclusive particles are up for grabs, so don't hold back. Get your creative hats on and get building!
All rules and further information about the competition, including how to enter, judging criteria and where to post your finished builds can be found here
---
General Server Updates:
Its been a fairly quiet month on Survival but I'm very excited to announce that we released some incredibly epic Survival Fall Crates!
These contain a very exciting collection of BRAND NEW
Pets
Particles
Disguises
Gadgets
and can be purchased from the MunchyMC Buycraft Store (store.munchymc.com)
Trick or Treat Event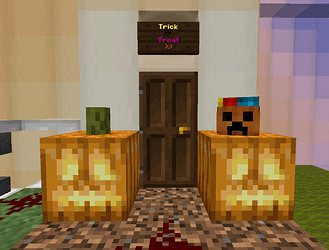 @RossRao and @oCrypt organised an epic Halloween themed Trick or Treat event at the Survival spawn, handing out goodies and some amusingly named 'tricks' to any player who attended!
I also just want to take the time to say a huge public thank you to the amazing Survival Smods who have been doing such an epic job of keeping the server pottering along happily over the past few weeks. You are all very much appreciated.
Written by Ibby.
Wool Wars Highlights!
October has been a very exciting month for WoolWars!
We've had multiple lovely staff members joining the team, a few very exciting updates, some amazing new maps (built by our lovely community) added to the kit rotation, and even a WoolWars Clan Tournament!
The Halloween Update
This month, a very spooky update was introduced to WoolWars: The Halloween Update!
The Halloween Update introduced a new exciting Halloween Kit, as well as a fantastic new spooky lobby built by the amazing Hi_Im_Mikey, a total of seven new maps, and a highly request Glider kit buff, Poison potion nerf, and a Winstreaks feature!
You can read all about it here: (Watch out for jumpscares…)
WoolWars Clan Tournament - Season 1
On the first of September, my friend Serioux and I had released the first official WoolWars Clan Tournament that lasted for over a month!
We've brought in only the best Clans from all around the MunchyMC Network to battle it out for the prize of 30 days of Legend, and 2x 30 days of Elite, and of course is known as the most amazing, powerful, and the absolute best WoolWars clan around!
We'd like to congratulate APPA for winning the first-ever WoolWars Clan Tournament!
Final Round Placements
1st: APPA - 27 points
2nd: P2W - 25 points
3rd: Monke - 17 points
Full Clan List

Monke - Lead by McDonalds
Appa - Lead by Joekoe
P2W - Lead by DaanB
Kappa - Lead by Andy052002
Greed - Lead by Greedly
Clean - Lead by SH0CKINGS
The Winged Hussars - Lead by Innvo_Nation
Enginers - Lead by Vorbidden
NerfVast - Lead by Smimu
Legit - Lead by Gawkyy
Drex - Lead by ImKindaSlimey
I'd also like to end things off by thanking everyone who participated!
We were so pleased to have you all in our first attempt ever at an official WoolWars clan tournament, you all did an incredible job and are overall amazing.
Official MunchyMC WoolWars Events Server
Similar to the Survival Games discord server, we've decided to rebrand the WoolWars Clan Tournament discord server into the Official WoolWars Events Server!
This means that from now on, apart from event announcements on the forums, everything event-related will be handled in this discord server.
This discord server will serve as an easy way to connect between players and staff in the WoolWars community, talk about WoolWars related topics, announcing new events, advertise your own non-Munchy official events, and to find quick support regarding WoolWars events.
Written by McDonalds.
Survival Games Highlights!
SG has some major updates in the works right now, and we hope to begin a fresh season as well as a major update release before the conclusion of 2020.
Written by Mikeal.
Build Team
---
This month, the Build Team had the opportunity to host a Build competition for KitPvP! With amazing results and many talented people. We will also talk about the new maps and our newest Trial, so take a look at the October's BuildTeam newsletter and don't miss any future events!

---

- Build Competition:
The KitPvP Event Maps - Build competition has ended with beautiful builds and incredible ideas & design, however, we need to thank all the players who submitted a map. But mostly, special thanks to the winners: @DaanB (Top 1), @AloneTM (Top 2) and @Redccat (Top 3). Check out their amazing builds clicking the ''Click to view their build'' buttom from below.
---

FIRST PLACE - TNT Run Futuristic Track made by DaanB!

Click to view their build

SECOND PLACE - Sumo Jungle Map made by AloneTM!

Click to view their build

THIRD PLACE - Tree Sumo Map made by Redccat!

Click to view their build
---
- New Maps and Trial:
The Build Team has been working on brand new maps wich, sadly, we can't show them yet. However, we've got a new Trial Builder!
@DaanB
will be working on his trial project and we really expect a lot from him. We will show new Sneak Peeks in the next Newsletter, so make sure to check it out in the next month!

Written by SierAlex (SierHasArrived).
---
And that is all for this month!