Hey there folks and welcome to the

50th

edition of the MunchyMC Newsletter! Here's to 50 more editions! :P Let's hop right into this newsletter, there's some eggciting stuff lined up!
- infernalfae
---
Promotions
Head Admin
After being a fantastic leader of the staff team and community for quite a while, our dear staff manager and admin @BFI01 has received a very well deserved promotion to Head Admin! Congratulations from everyone here at Munchy. :)
Junior Developer
- RossRao has been promoted to Survival Junior Developer!
Junior Moderator
- ZombieBot1 has been promoted to WoolWars Junior Moderator!

- VioletRay has been promoted to Survival Junior Moderator!

- iNateCo has been promoted to KitPvP Junior Moderator!

- JamieDactyl has been promoted to WoolWars Junior Moderator!

- lukasekjjjj has been promoted to KitPvP Junior Moderator!

- itslemonnn has been promoted to WoolWars Junior Moderator!
Helper
- CharlieWK has been promoted to Survival Helper!

- Mysaan has been promoted to Survival Helper!

- LilChibi has been promoted to KitPvP Helper!

- MeerkatMist has been promoted to KitPvP Helper!

- MyBee has been promoted to Survival Helper!

- ChipperHen has been promoted to WoolWars Helper!
Written by Atterax.
---
Global Highlights!
Purgatory: The Anarchy Update
This month our Purgatory server received a major update and has become its own gamemode! The Adventurer feature was redone to give players the full banned player experience, and there are now lots more trolls and quests. Additionally, Purgatory now features a new 1.18 world and the rules have become more relaxed. Have a look at this post for more information. Have fun!
Event Server Museum Additions
We've added 3 maps to the event server's Museum this month! Join the event server and take a look at these relics of Munchy's past:
Click here
Forums Profile Pronouns
If you'd like to have your preferred pronouns appear on your forums profile, there is now an option to choose your pronouns on your profile preferences page!
Click here
Staff Applications - Concluded
On March 1st the staff application season came to an end. Throughout the month our staff and gamemode managers have been reviewing the applications, and we've seen several new faces join the staff team! Best of luck to all the applicants next season. :)
Written by Atterax.
KitPvP Highlights!

New Event Maps
Shattered Isle Parkour Race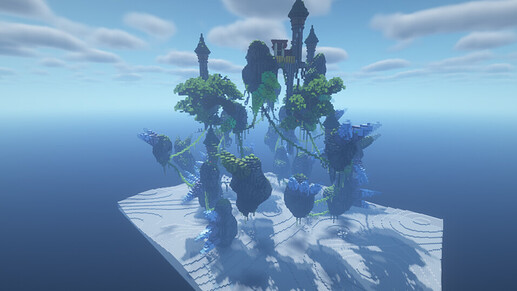 by
SierAlex
Unfortunately that's all the news for KitPvP this month however, the button below should make up for it.
enjoy this picture of @Atterax
Written by DutchMTC.
Prison Highlights!
This month, the first sneak peak for prison map 9 was finally released!
You can read the complete post explaining all the new features here.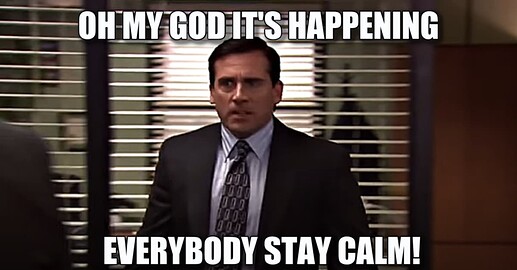 Soooo… What do we know so far?
In the first sneak peak of map 9, we released four new key changes that will take place next map.
Prison is changing from version 1.8 to version 1.18

We know. You're freaking out.
But don't worry; let us explain.

We intend to stay true to the 1.8.9 combat style. One of the major reasons why map 9 has taken a long time is because we have been hard at work to keep the pvp as true to 1.8.9. This means we have created a completely custom coded pvp system so that we can continue to enjoy 1.8.9 pvp with all the perks of upgrading to a newer version.

This means we will still have 1.8.9 hit speed (with no long waits between hits), the same 1.8.9 knockback and criticals, same potion-based pvp and no shields or offhand. We have done countless testing sessions with some of the best pvpers on Munchy to ensure that the differences are next-to-none so Prison will still have the 1.8.9 pvp feel.

By upgrading to 1.18, we'll be able to introduce a tonne of new plants, weapons, effects, particles, mobs and blocks that will open up new opportunities to add interesting items, rares, farming/mining/pvp/etc. This includes things such as tridents, crossbows, spectral, levitation, slow falling and new mobs!
New enchanted chests in the outside world

Chests that you loot in the outside world will have a 1/50 chance to become enchanted with a color! he colors will correspond to the following boosted chances:

Red: 100x Ultra Chance
Yellow: 100x Legendary Chance
Blue: 100x Special Chance
Pink: 100x Mythical Chance
More difficult mobs and new creature rares

Mobs will become much more difficult to fight and run from, but also be much more rewarding to kill. There will be a number of new custom mobs with custom abilities that will add a new challenge to the outside world.

As you kill mobs, they will occasionally drop creatures crates when they die. These crates can contain a number of rare items (such as ultra rares, high value logs, and the all new *creature rares).

*Creature Rares will be a new rarity that is only obtainable from creature crates.
Changes to how farming works

Next map's farming will have almost entirely new crops/drugs.

Crack will be the highest-tier drug and will now grow AMETHYST CRYSTALS on amethyst blocks! It will have different abilities when consumed, like nearly all drugs, and spiked hash and spiked shrooms will no longer exist.

The old unrefined weed, unrefined pills and unrefined hash are all replaced with new crops.
When is it being released?
Unfortunately we must leave you with the dreaded word;
soon.
Map 9 has been in development for a long time and everything is almost complete.
The big question… What is the theme???
Here is a challenge for all of you who complete your daily wordles!
The theme is:
_ _ _ R _ _ _ _ _
We also know that the theme does not contain the letters V or O.
SPIRITUAL?
GUARDIANS?
AMERICANS?
Too many options.


With map 9 soon to be released, now is the time to grind to the top of the 8R leaderboards.
The

#1

Top Rank player will have a Legendary in Map 9 named after them.
The

#1

Ultras Looted player will have an Ultra Rare in Map 9 named after them.
Below is how the current Map 8R leaderboard stands:
Top Ranked
#1 - Napkin0fVembz - (XVIII)(D1)
#2 - Chance1337 - (XVIII)(New)
#3 - PilarSage260320 - (XVII)(New)
#4 - liambgames - (XVI)(A3)
#5 - Joedaboss - (XV)(B1)
Most Ultras Looted
#1 - TSUTT_ - 2,245
#2 - liambgames - 1,338
#3 - Joedaboss - 1,166
#4 - DrSnoty - 913
#5 - LeanLoverLeaf - 733
Written by dxlicaterose.
Survival Highlights!

Hey there folks and welcome to the Survival section in this months newsletter! Not a lot of things have happened this month, but let's get right into it shall we? I hear theres been rumours of a bunny hopping about…
I. The Triple Easter Events !

Kicking off the announcements for next months events, our wonderful @Alkemystix is hosting not one, not two, but THREE Easter events!
These events will be hosted on Friday, the 15th of April @ 8pm GMT, Saturday the 16th of April @ 7pm GMT and Sunday, the 17th of April @ 6pm GMT.
Lets take a look at which eggcelent events will be hosted!
I. The Easter Skin Competition!
This eggstra eggstroardinary event will require you to wear (of course) an Easter related skin! You can choose to be in a duo for this event. This will be judged by the one and only @EvillRat, the kiwi in space @LunaInSpace and yours truly @infernalfae!
Lets check out the prizes shall we?

1st Place:


6 Crate Keys of choice + 1 Week Legend Rank + 1x Custom Chick Head


2nd Place:


4 Crate Keys of choice + 1 Week Elite Rank + 1x Custom Chick Head


3rd Place:


2 Crate Keys of choice + 1 Week Super Rank + 1x Custom Chick Head

We hope to see all your spectacular skins at this event! For more information, find the link at the end of this section.
II. Easter Egg Head Hunt!
This event involves being let into an arena with all your fellow participants. Your goal is to find all the lettered custom heads, which are a scrambled up word, unscramble said word and /msg Alkemystix the correct answer! The number of letters will be given at the start of the event, and hints may be given along the way!
Prizesss?

1st Place:


3 Crate Keys of Choice + Custom Gold Trophy Head


2nd Place:


2 Crate Keys of Choice + Custom Silver Trophy Head


3rd Place:


1 Crate Key of Choice + Custom Bronze Trophy Head

III. Bunny Catcher!
This is a new event to Survival, like. Totally new. Thanks Alke for being epic and hosting epic events. You'll be let into one of multiple modules surrounding a circle, and given fishing rods. The event will consist of three rounds, each lasting 1-2 minutes! Rabbits will begin spawning around the circle, your goal is to hook them with your fishing rod and to try to gather as many as you can in the hole near your module. When the time is up, The number of rabbits will be counted up, and the player with the most rabbits will win!
The winner of EACH ROUND will receive these prizes:

1st Place:


2 Crate Keys of Choice + Custom Rose Rabbit Head

We look forward to seeing how Alke hosts this wonderful new event!
---
With that being the end of the event descriptions, please be aware that you can find more info here!
Have a good Easter, everyone!
II. Mapart Hall Of Fame!
Welcome to the newest part of the Survival Section of the Newsletter!
Those who know me know I love mapart, and I think we can all agree that it's one of the most appreciated forms of well, art, on Survival, and so I'd love to showcase all of your wonderful maparts! Each month, a mapart creator can send me maparts they've made within that month and they will be featured in the Mapart Hall of Fame!
If you wish to submit a mapart to be featured in the Mapart Hall of Fame, please send me a screenshot of the mapart on Discord @ fae#4984 !
Unfortunately, as this is a new section, I haven't been able to gather any screenshots for this month, however I look forward to seeing all your beautiful creations in April's Newsletter!
III. Out Of Context Survival Quote
Well. Couldn't have a newsletter without it could we have? This months quote comes from what some may say a Legend in the community. The feared, respected, cahrypt.
Yeah lets remove the "feared" part, shall we?


Will we ever figure out who Crypt is referring to in this image? Probably not. But alas, it is called out of context for a reason. Hmm.
For next month's Newsletter, if you have any ~suspicious~ quotes from your friends in Survival during that month, send them to me on Discord @ fae#4984 !
---
With that, we sadly reach the end of the Survival section. Which is always the saddest part of the Newsletter, I know. But do not fear, for hopefully we shall be back with fresh content next month! That's all folks! (Am I legally allowed to say that? Oh well)
Written by infernalfae.
Wool Wars Highlights!
HELLO EVERYONE, WELCOME TO W W
It's your favourite white-haired woman seducer, and I'm here to tell youu about what happened this month. There's a lot to cover, so let's get started

I love Beanep and Zeepog and Zeenep and Beapog and Peanep and Geezop and Neapeg and Peagoz and

Have you ever wanted to fight your friends? Have you ever wanted to fight all of your friends? Have you ever wanted to fight all of your friends while playing on a map that bricks your PC whenever your render distance rises above two chunks? Oh boy, you missed out.
All jokes aside, the Woolwars Free for All was an amazing competition that pushed every player to their limits. Congrats to @TonyMax for winning, as well as the four runner-ups! This event marks yet another stellar project from our two hosts, Geanep and Neepog. Or was that Peagen and Geezop or Beanoz and Zognep or Neabez and Geenop or
I love woolwars more than I love my infant son

Woolwars recently introduced a levelling system! The more you play, the more prestige you gain. Hitting milestones along the way rewards you with crates containing cosmetics! Speaking of cosmetics…
Cosmetics

Woolwars is continuing to add more cosmetics! Suggest any ideas you have to Fumaz and BFI01, and make sure to report whatever bugs you find.
This definitely happened in March

Do you love sand? Do you want to see sand? Do you want to feel sand? Do you want to eat sand? If you answered yes to any of the above questions, too bad. Sand wars was last week, and is never coming back again.
Helix owes me thirty dollars (Pay up or I will steal your family)

Watch in wonder as @HELIXED and @ZeePog share a tender snog in the woolwars lobby. Oh, the beauty of young love

Dm me any kiss cam submissions for next month's newsletter at Zombie#4847
That's all for woolwars this newsletter. We've had some amazing updates recently, and I can't wait to see what next month brings!
Written by YourmombieBot1.
Community Art Highlights!
Hello and welcome back to the community art highlights section of the newsletter! Here I present the awesome works of art that have been shared with the community by players in our discord server throughout the month:
Click here

---

Xagma

---

oBerryy

Illustration of Sourrry


Illustration of G3B_


Illustration of PlaguedDoodle


Illustration of Sharkpaws


---

MaxTheNerdd

Illustration of pillowfart1


---

Tanva

---

Mysaan

Bug & Idea Team


Illustration of Aiadeva


---

Smeru

---

Sharkpaws

Illustration of oTortle


Illustration of HeyAlan


---

Clouxs

Illustration of Aiadeva


Illustration of Wolfez


Illustration of Wolfez


---

fluffnado

---

beanep

Illustration of Plazmal/Blossoma


---

Sp1dripSnake

---

Paint22

Illustration of UranicPine


Illustration of TwinBattleBLT


---

Luma669

---

RebeccaCatLover

---

OkutoAkima

---

VietnameseDream

---

Ibby_

Illustration of Alkemystix


---

Zammyz

---

pillowfart1

---

HamothyHam

---

kiko8242

---

TrusteeBuddie

---

Hope you enjoyed these pieces as much as I did, keep an eye on the artwork channel in the community discord and the next newsletters for more! :)
Written by Atterax.
---
---