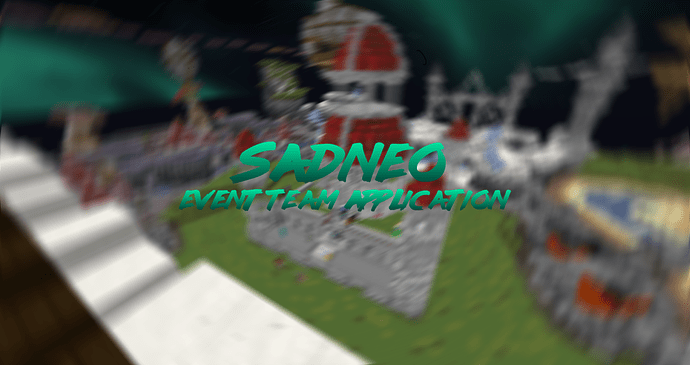 ---
IGN:
sadneo
Timezone:
Eastern Standard Time / EST
How often can you host events:
I'll be providing a schedule that will only take effect when the new school year starts. I will be available all summer long.
Mon: 3:00PM - 11:00PM
Tue: 3:00PM - 11:00PM
Wed: 3:00PM - 11:00PM
Thu: 3:00PM - 11:00PM
Fri: 3:00PM - 11:00PM
Sat: Anytime - Anytime
Sun: Anytime - 11:00 PM
---
What sets you apart from other applicants:
What sets me apart from other applicants is my wish to support the community within any given chance possible. Being an event member will allow me to make MunchyMC a better server and more fun experience for the players, this means being as useful of an event member as possible, such as helping players with questions, hosting manual events, creating new ones, and much more! Being provided with such trust will be truly a great experience and I will love to dedicate my availability to not only providing players with a fun experience but to help me become a better person as a whole, I know I've made some mistakes in the past, but I've realized that I need to be cautious about when it comes to holding such a responsibility. I'll make sure to make the community as happy as possible and host as many events as they desire, not just automatic events, but more manual events since the community seems to enjoy more manual events than automatic events since they seem to be rarely hosted. Being an event member is something I would love to do because it sounds really fun and will be amazing to be when given a chance!
A second reason that sets me different from other applicants is my strong connections with the community, the KitPVP community to be exact. As I said in my previous event application, being part of the Staff Team, Event Team, Build Team, Idea Team, etc. It allows you to be more connected with the community. Being in one or any other team will help you achieve great things. If you're an event member and have a positive reaction towards other players whether they're a friend or not, I believe you'll be able to host events with a very clean experience. In terms of hosting events, keeping all the players happy or satisfied may be a difficult job, but I believe I can handle that job!
Lastly, as a previous Event/Staff Member. I fully understand the responsibility that comes with being an Event Member. Previously throughout my time, I was able to fully understand how being an event member works. I was even given the ability to create new events such as BucketUHC and new maps for events such as Classic Redrover and Waterdrop! These experiences showed that there is more to being an event member than I thought. I will not be providing what I know about events since I already understand everything about commands and manual/automatic events.
---
What can you bring to MunchyMC as an Event Member:
My main goal is to make sure all players on the server are having the best experience possible when it comes to having fun on MunchyMC. I want them to give them a voice when it comes to having fun and I found the chance when it comes to hosting manual events. Even if my main goal is achieved I wish to make MunchyMC an even greater place for everyone.
As a previous Idea Team Member, I believe I can create new events that are even greater than the previous ones I have created or even create new ones suggested by the community. If given a chance I would love to take this into full consideration and would love to see what the community comes up with.
I will be available all summer long, I would love to dedicate my availability to be on the server. Whenever I'm not on that means doing something else such as hanging out with my friends on TeamSpeak, or doing school work.
---
Why do you want to be on the event team:
The reasoning behind why I want to be on the event team is because I've noticed that the event team is running low on event members and I would love to be given another chance to be part of the community and provide them with an even better experience than my previous self from a year ago. I was quite surprised when the MunchyMC Munchy of the Year post said that I hosted many events and given many days of elite. I set a goal for myself to even go beyond the number of events I've hosted previously within the year prior. I like the community and would love to be given a second chance. I know the mistakes I have made and I have learned to correct them.
---
Give us one or more examples of an Event Member(s) doing something positive (I.E. Hosting an event when you asked, allowing you to become the slayer in RR, etc.):
---
Anything else you would like to add:
Yes I would like to apologize greatly for the incident that occurred last year and the trouble it has caused anyone. I have sorted out things with BadBoyHalo and many other people and we are on good terms.
I would like to thank you for having the time to read my application and I love to see the feedback from the community to see what I can improve on!