Hi folks! Welcome back to the 46th Edition of the MunchyMC Newsletter for this month! We have quite a bit lined up from (most) gamemodes from November 2021, let's jump right in shall we?
---
Promotions
Junior Moderator
- Twinkiewinkie has been promoted to Survival Junior Moderator!
Helper
- LunaInSnow has been promoted to Survival Helper!

- DutchMTC has been promoted to Survival Helper!

- Atterax has been promoted to Survival Helper!
Event Team
- DrakeOfStars has joined the KitPvP Event Team!
Build Team
- thedutchknot has joined the Build Team!
Written by BFI01.
---
KitPvP Highlights!

HEY!
Welcome back to this month's section of KitPvP news!
We have quite a bit of news this month so get ready

The return of the Istaf map
After a very long time we finally see the return of the glorious Istaf map!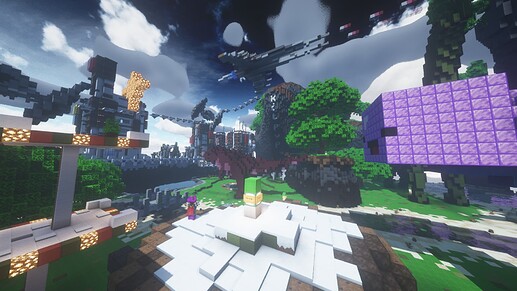 New Event Maps
Every week we will see new Event maps joining the pool until we run out of maps.
Let's take a look at which maps joined the pool this month.
I. Wild West OITC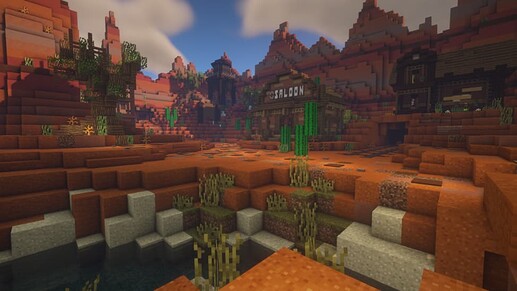 Map created by Paengi
II. Marble Hills Sumo
Map created by laptev
Written by DutchMTC.
Prison Highlights!

Welcome to Prison Map 8R!
This month we decided to completely reset everyone's progress on prison.
What does this mean?
It means that everyone's items, cell rank/prestiges and stats have been erased so that everyone's progress is completely reset back to new. As per usual, all purchased lifetime ranks, warps, /build and emotes have not been removed.
What about map 9?
Since Map 9 is currently under development, we decided we would reset the map to test out a couple of new features. This in no way delays or is supplemental to Map 9, this is only something extra that players will have access to during the wait.
What new features are in Map 8R?
There is now a new cell shop system so that you can turn your cell into a shop! Slots were also buffed a new epic rare was added, and a completely new rare set was added (including a new mythical)!
You can view the full list of updates, bug fixes and item adjustments by typing /changelog in game.

Congratulations to @Teenyrobot for having the highest rank at the end of map 8, who will now have a legendary named after them in map 9! Furthermore, @liambgames will have an ultra named after them for having the most ultras looted!
Two players will also have items named after them at the end of Map 8R!
The

#1

Top Rank player will have a Legendary in Map 9 named after them.
The

#1

Ultras Looted player will have an Ultra Rare in Map 9 named after them.
Below is how the current Map 8R leaderboard stands:
Top Ranked
#1 - Chance1337 - (V)(New)
#2 - NotOryx - (IV)(A3)
#3 - Joedaboss - (IV)(B1)
#4 - DecapitatedAce - (III)(C4)
#5 - TACOMUNCHERLEAF - (III)(D1)
#6 - psycxho - (II)(B4)
#7 - liambgames - (II)(C4)
#8 - ilychip - (II)(C1)
#9 - SmogX - (II)(D4)
#10 - Give_Baby_Yeti - (II)(New)
Most Ultras Looted
#1 - TSUTT_ - 136
#2 - ImJustWorse - 128
#3 - liambgames - 121
#4 - GiveBaby_Yeti - 83
#5 - BizOnCrack - 78
#6 - mony105 - 71
#7 - drage_mannen_jr - 51
#8 - saladbutter - 49
#9 - Chance1337 - 41
#10- JUST511 - 37
Written by dxlicaterose.
Survival Highlights!


Heyy folks! Welcome back to this month's Survival Highlights, let's get into it, shall we?
I. [ONGOING] Christmas Mapart Competition !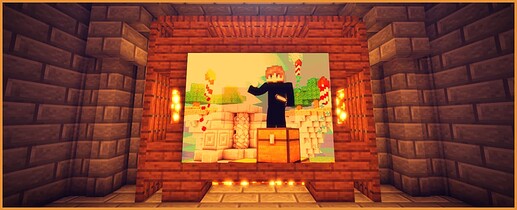 This month was opened with a bang as the Christmas Mapart Competition was announced! This is hosted by the one and only @Alkemystix, and judged by the lovely @VioletRay, the meme maker @danior1, the amazing @EvillRat and your local nerd @infernalfae.
As this is currently ongoing (ending on the 6th of December @ 11pm GMT though!), you can find the post here and if you're fast enough maybe you can enter!
The prizes for this competition are as follows:

First Place
1 month VIP++ Rank
Exclusive Coloured Glow Effect (of your choice)
15x Fall Crate Keys

Second Place
1 month VIP+ Rank
Exclusive Coloured Glow Effect (of your choice)
10x Fall Crate Keys

Third Place
Exclusive Coloured Glow Effect (of your choice)
8 Fall Crate Keys
Good Luck to all participating!

II. [ONGOING] Jolly Skin Competition !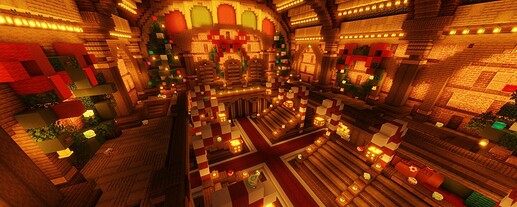 Second exciting thing announced this month is the Survival Jolly Skin Competition! Hosted by @infernalfae, and judged by the wonderful @DutchMTC, @LunaInSpace and @kaittt, it's (hopefully) bound to be a good one :p
The Skin Comp will be held on the 23rd of December at 3pm EST, and you can find more info here !
The prizes for this competition are as follows:

First Place
5x Crate Keys
1x EXCLUSIVE Santa Claus Plushie

Second Place
3x Crate Keys
1x EXCLUSIVE Snowman Plushie

Third Place
1x Crate Key
1x EXCLUSIVE Penguin Plushie
Good luck with this one folks, we're excited to see your festive skins!

---
It was a short one this month folks, but that just leaves more excitement for next month :p Thank you all, once again, for reading!
(If you have any suggestions for the Survival section of the Newsletter, please dm me on Discord @ fae#0003, thankes folks <3)
Written by infernalfae.
Wool Wars Highlights!
It would be a real shame if this newsletter section was so small that everyone had to spend a half hour trying to find it. It's okay if you skip past this part, I won't mind

Oh no, my plan of doing no work on the newsletter has been thwarted again. Maybe next time I'll change the font to white.

I guess it would be a shame for you to scroll this far without a reward, so here's everything that has happened in woolwars this month!

New Years Map Competition

Do you like woolwars? Do you like money? Do you like woolwars and money? If you answered yes to any of those questions, this new years map competition is for you. Submit a custom shaped woolwars map by January third, and you will have the chance to win one hundred dollars! Maps will be judged by BFI01(smelly) and Badboyhalo(Cute)

For more information, check out this forums post!

Omg the devs are alive

A great addition was added to woolwars(and other gamemodes but who cares about those) this month. Open the woolwars changelog by going to the lobby and finding the new item in your hotbar. Munchy's developers will use this to list bug fixes and small updates.

Click here to increase your heartbeat

After a whole month of no love, it is yet again time to watch the woolwars kiss cam. This month's edition is the most passionate yet. Be warned though, the coming image is not for the faint of heart

Woolwars Kiss Cam (real)


Watch @Plazmal (real) and blossoma (also real) stare into each other's eyes . For far too long these players have hidden their feelings from each other. Let's wish them well in their happy new relationship!

Like I sad earlier this kiss cam is completely real guys I am a man of honesty and integrity and would never fake a kiss cam this is NOT TwinbattleBLT and Zombiebot1 why would we lie to you

Let's get serious for a moment

Woolwars has gone through a lot this year. Two major updates, numerous bug fixes, staff promotions, and our amazing new community members have all made this server such a fun and safe space for so many of us.

With thanksgiving barely gone and christmas just around the corner, I'd like us to play a game in the comments. Name a player you met this year that you're grateful for, and name a woolwars update this year that you're grateful for.

This server has provided us with so many great memories, and we're all glad to call it our home. Until next time, everyone.
Written by ZombieBot01.
---
---