---
MunchyMC Newsletter: Edition 20 - July 2019
Welcome back to MunchyMC's monthly newsletter! This month has been jam-packed with promotions, updates, applications, and much more— so, needless to say, this is our biggest newsletter yet! Without any further prelude, let's jump right into this month's newsletter!
- Dishrespect
---
Promotions
Staff

- Sadneo has become a Junior Moderator!


- Finessedkid has become a Junior Moderator!


- NuggetNed has become a Junior Moderator!


- Dishrespect has become a Junior Moderator!
Prison Staff
- Floatage has become an Officer!


- RedBloomingRose has become an Officer!


- NuggetNed has become an Officer!


- ImMCMMO has become a Trial Guard!
Survival Staff

- RossF_ has become a Mod+!


- Hardah has become a Mod+!


- Devonymous has become a Mod+!
Helper

- xKamilion has become a Helper!


- Devonymous has become a Helper!


- xShrek has become a Helper!


- CryptWarrior has become a Helper!
Newsletter Team

- IntrepidBookworm has become a Newsletter Editor!
Builders

- Bartechnika has become a Builder!


- brow30535 has become a Trial Builder!


- xLuuk_ has become a Build Helper!
Bug Team

- leCyber has become the Bug Team Manager!


- Gawkyy has become a Bug Team Tester!


- Addriel has become a Bug Team Tester!


- CrazyField has become a Bug Team Tester!


- Bartechnika has become a Bug Team Tester!
Written by Gawkyy.
---
--|~News!~|--
Kit Updates!
KitPvP has changed a lot this last month! Lets recap:
Season IV has completed this month. Starting on July 6th, the season lasted until July 31st. A full recap on the season's winners can be found later in this newsletter. This month also saw the announcement of Clans Season TWO! Announcement post can be found here.
Written by Examiner.
Prison Updates!
Hephaestus Magnet/Electromagnet now only picks up minerals - prevents slops from filling up your inventory!
Aegis and Aphrodite Heart combo was nerfed so that blocking with Aegis prevents regeneration, and the Spear and Apollo Machine combo was fixed!
The jackpot at the casino has been fixed - time to get gambling again!
/changelog now shows the latest update in game!
Lastly, Fabled Rares are coming shortly, so start saving up your legendaries!
You can view the full list of updates and fixes here.
__
This month I'll also be clarifying a few rules that are being enforced on prison so that you are aware of what is punishable!
Bug Abuse
You can get punished for any abuse of bugs, including and not limited to: duping items, abusing bugged ultras, abusing broken ultra combinations, etc. If you encounter a bug, report it to a staff member immediately. Any bug abuse will get you warned and/or punished.
Macros
Macros, or anything else that works similarly, are not allowed as they give you an unfair advantage over other players. For example, using a macro to run /sellall to afk farm.
Alt Boosting
Alt accounts cannot be used as an unfair method of boosting other accounts. This includes owning more than one farm on other accounts, transferring crates between accounts, using rares (such as St. Pats Boots) on alt accounts to bypass cooldowns, etc.
Spamming /pay
Chat spamming is a punishable offence. The same applies to /pay spamming, and players can therefore be punished for it.
Use common sense! Anything that gives you an unfair advantage over other players can get you punished. If you're unsure whether a modification, possible bug or action is punishable, simply ask a staff member.
You can view the server rules here and the allowed and disallowed modifications list here.
Written by RedBloomingRose.
Survival Updates!
It's the news everyone has been waiting for…
MunchyMC Survival 2.0!
The reset will introduce a brand new 1.14 world, meaning there will be new biomes and new mobs to interact with!
Going along with the reset, there will be a bunch of exciting additions to survival - including a new spawn, fun minigames, various quests and much, much more!
Current players; don't fret. We've heard your feedback and understand the endless hours that have been poured into survival. Because of this, the old survival world will be accessible as an Archive World that players are still able to view and explore, so you don't need to say goodbye to your builds! Additionally, all claimblocks will be transferred over to the new survival world.
Get ready, Munchies - Survival 2.0 will be released before the end of the summer!
Written by RedBloomingRose.
---
Meet the Build Team
There has been so much progress and work coming from the construction team during the month of July! They've put so much time and energy into constructing so many incredible buildings for us, I want to display excellent builds coming to KitPvP events!
This first build is for the event named "One in The Chamber" or for shorter OITC. The theme behind this build was inspired by the 'Cliffs of Dover' and house style was inspired by MMO style houses which the idea has come from igotchu! He's spent a lot of time trying to perfect the map to make sure it'll function and look amazing while playing!
Here's a screenshot of how the build looks!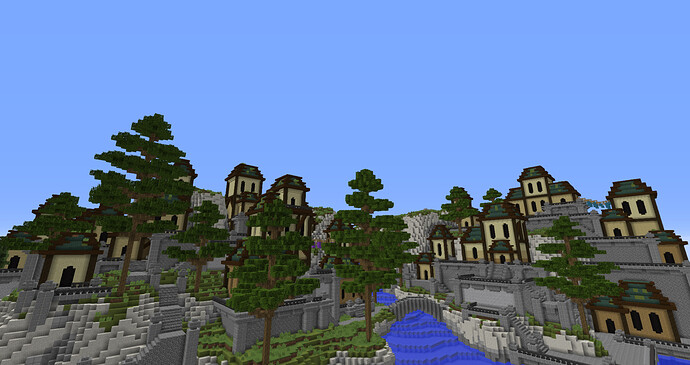 The builders that contributed to help build this incredible map was:
igotchu
Soarie
Bartechnika
TheMooingCow
This second map is by quite amazing as well, it was built for a Brackets map to which shall I say this map is very well detailed and quite beautiful. The theme behind this Brackets map was thought of by Bartechnika he was inspired by Japanese gates called torii put in a snow setting. This is another map just like the others that builders have put their time into to perfect it!
Here's a preview of how the build looks!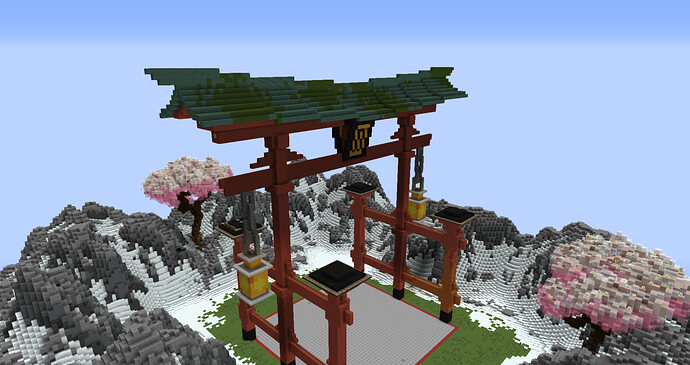 The builders who helped are:
Bartechnika
Soarie
igotchu
Make sure to thank them for the amazing maps we're able to play on and many more being made

!
Written by Gawkyy.
---
Media Spotlight
Did you end up miss out on the Ares 3rd Banwave on KitPvP? Well, thanks to Finessedkid we got a great recording of all the little cheaters!
Hmm, ever seemed to wonder what happens on KitPvP other than going against one another? NuggetNed had gone on a rollercoaster on a boat along with other players giving them a very enjoyable time!

On prison many of the new players, they can be very confused about where to go outside which is best for looting. Thanks to NuggetNed he's made a video showing 3 of the best spots to loot when you're outside!
Last but not least BadBoyHalo has won Minecraft Monday week 5 with Skeppy! After getting 2nd place 2 weeks in a row, he's finally gotten first! Make sure to congratulate him if you haven't!

Written by Gawkyy.
---
KitPvP Season 4
Season IV has officially concluded! Here's a list of winners in each category:
Seasonal Kills:
#1 - JWcloud_walker (6644)
#2 - Gaybiez (6185)
#3 - Gawkyy (5792)
#4 - xCEK (5616)
#5 - CANKRII (5203)
Seasonal KDR:
#1 - xShrek (1000)
#2 - Sowl (315)
#3 - sadneo (138)
#4 - Greenwolf15 (118)
#5 - finessedkid (109)
Seasonal Killstreak:
#1 - xShrek (520)
#2 - errxr ( 381 )
#3 - lesbb ( 324 )
#4 - igotchu ( 274 )
#5 - Toy ( 274 )
Honorable Mentions:
Seasonal Arena ELO:
#1 - CANKRII (1826)
#2 - SourGod (1803)
#3 - unsign (1737)
Seasonal Arena Kills:
#1 - errxr (1983)
#2 - DeForst (1205)
#3 - Hatool (995)
Written by Examiner.
---
iGotchu Interview
iGotchu is one of most important figures on Munchy, yet he largely goes unrecognised for his hard work. As an admin, and most recently the manager of the build team, he spends a lot of his time on the build server making new maps for us all to enjoy. This month we were able to interview him about his work on Munchy! Click on each question to view his answer.
Questions:
---
How did you find Munchy, and what made you decide to join the build team?

A friend of mine introduced me to Bad through TS and they convinced me to join. I was given a spot after showing some of my previous work.
---
How long have you been a builder on Munchy?

Since around when I joined in 2015
---
How did you start to learn how to build?

I offered to build for a tiny kitpvp server a long time ago, with no experience - and they gave me a shot. I kept doing that as I met more owners of the servers I played on
---
Have you been involved in any build teams before Munchy?

I used to work for lots of soup servers which allowed me to meet some big network owners. That was really cool. Once I found Munchy, I really liked it here, so I've stayed since
---
What is your favourite build that you have built on Munchy?

My favourite project for Munchy is a set of unreleased 1v1 arenas which I'm working on currently, alongside the builders of the team. Here's a sneak peak at one of them:

---
As the build manager, what are some of the key elements that you look for when assessing build applicants?

I look for builders who I can feel their passion. This can be in the quality of the builder, or how they show they truly want to learn and improve. :)
---
What advice would you have for players learning how to build?

Take your time in the planning and early phases of your builds. These could have the biggest impact on your final results
---
What are some of your favorite types of builds?

Anything PVP related, because I enjoy PVP myself. It's cool seeing Munchy's players fighting in my maps.
---
Building in Minecraft involves a lot of skill and creativity. Do any of these skills carry across in real life?

Sometimes xD
---
Written by RedBloomingRose.
---
Community Polls
Q1: Favorite gamemode on Munchy?
KitPvP
Prison
Survival
WoolWars
Pewdiepie ()
Q2: Favorite event on Munchy?
Waterdrop
Four Corners
Parkour Race
Sumo
Q3: How long have you been playing Munchy?
Less than one month
One month or more
Six months or more
One year or more
Two years or more
Q4: What is your average FPS?
Below 100
100-200
300-500
Even higher
Q5: How many hours a week, approximately, do you play on Munchy?
1 hour
12 hours
24 hours or more
Q6: Out of the four most popular kits on KitPvP, which is your favorite?
Slingshot
Ninja
Dash
Hornet
Q7: What is your average CPS?
6 or below
7 or above
10 or above
15 or above
Q8: Would you like to see Arena stats included in Season V Prizes?
Include Arena
Don't Include the Arena
Written by Dishrespect/RedBloomingRose/Examiner.
---
Newsletter feedback
We'd love to get some feedback by our monthly readers on how we're doing, and what we can improve on! If you have any ideas, suggestions or anything you think we can improve on, please let us know in the replies below!
Written by Examiner.
---
And that is all for this month!
---
To say the least, this has been quite the eventful month at MunchyMC! Make sure to say hello to all of our new recruits when you see them, and be prepared for the coming months! Thank you all for reading, and we hope you have a great start to your August!
- Dishrespect