---
MunchyMC Newsletter: Edition 14 - January 2019
New year, new…newsletter

not really, nothing has really changed. Except, for the first time we have a co-author that has assisted me in the making of this edition

Dan the Swag Savage (@DanTheSwagSavage) has made a couple of articles for us this month

apparently Dan did something stupid and got banned, but we won't talk about that

.
---
PROMOTIONS!
Our new builders hired this month: @BearBuilds, @RodorocsPride, @brow30535, @Hi_Im_Mikey, @Arizonahh, @anon39432947






@Sesaline joined our Idea Team

And…yeah

well done

---
KitPvP Season 3
By Dan the Swag Savage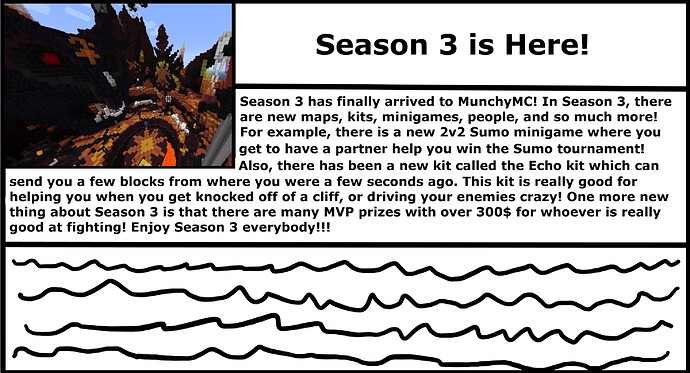 If you somehow missed it, you can find the announcement here.
---
Prison Map 6
You already know it's this Saturday yeah yeah

but you should read it again…in case you missed something yeah

. And of course we must commend @Dream and @Varmetek, among many testers and helpers, for putting in the hours to make this next release possible. You can all stop complaining now, and rejoice

.
---
Survival Feedback
Earlier this month I released a survey to gather feedback from all of you players. This is still open, and all responses are appreciated. Be sure to put in your word here to help us determine what changes are needed in order to improve our Survival server.

---
Friend System
We also implemented a neat little friend system this month. You can add your favorite MunchyMC players to your friend list, and the sorts. Right now it's a relatively simple tool but more improvements may be made in the future. See announcement post here.

---
Media Spotlight
This month, @TommyInnit was awarded Media rank. He's come out with his first Munchy video a couple weeks ago where he impersonates staff

a blatant rule violation but let's not talk about that

. Tommy, thank you for the good content and keep up the great work! Check out the video:
---
That's it!
Well done on another successful month for Munchy! February is going to be big, kicking off with the new Prison map, it's going to be a good one

. Hope you Munchies spend the entire weekend alone in your room enjoying the new reset (well you don't have to be alone really; invite your friends, parents, pets, and the dead cockroach under your bathroom sink to come witness the new map)! Thank you for being apart of the Munchy community, and later days

.
---