---
MunchyMC Newsletter: Edition 27 - April 2020
Welcome back to your monthly edition of the MunchyMC Newsletter! We have a lot of interesting content packed into this month's newsletter, so be sure to stay tuned and read all the way through!
- Dishrespect
---
Promotions
Senior Moderator

- finessedmidget has been promoted to Senior Moderator!
Moderator

- xShrek has been promoted to Moderator!
Survival

- RhysChase has been promoted to Survival Moderator!


- Nievaa has been promoted to Survival Junior Moderator!
Prison

- Sapnap has been promoted to Prison Officer!
Helper
- MetaLava has been promoted to Survival Helper!


- DragonsMaker has been promoted to Survival Helper!


- Xiistaf has been promoted to Prison Helper!


- Idealist has been promoted to Wool Wars Helper!
Written by BFI01.
---
--|~News!~|--
KitPvP Highlights!
I'm going to make this super short since most Kit players have read the same thing for the past 9 months. Kit hasn't had any major updates, but like stated in last month's newsletter, we have a major update to KitPvP that's been approved and should be worked on shortly.
On a small side note, the competitive warp on KItPvP has been removed.
Written by Examiner.
Survival Games Highlights!
SG has officially released this month, and with so we've seen the start of the SG season, of which a full explanation can be found here.
Written by Examiner.
Prison Highlights!

By jumping into the toilets at /warp bathroom (or by doing /warp brute), you'll find a new area of the prison available for brutes only… The chamber of secrets has been opened! The brute lounge has an exclusive exit outside for brutes, as well as exclusive cells.
Prison now has a new chat format! The color of a player's name is now their rank, and the color of a player's gang tag can be customised by gang leaders!
This month a bunch of new ultra legendaries are now able to be crafted, including the Newt, Hagrid and Draco sets! You can also fish up some new treasures, as fishing level rewards were added for levels 60-70.
You can view the full list of updates and item adjustments by typing /changelog in game.


Here are the current leaderboard positions! Remember that there will be prizes for the highest ranking players!

Top Ranked
#1 - Shoblette - (X)(C1)
#2 - Kalex31 - (IX)(B4)
#3 - RPPR - (IX)(B1)
#4 - liambgames - (VII)(B4)
#5 - Fulceny - (VII)(New)
#6 - Syfirup - (VII)(New)
#7 - RedBloomingRose - (VI)(A3)
#8 - OwO_Shorty - (VI)(A2)
#9 - Infinity_Rose - (VI)(New)
#10 - siminq - (V)(A3)
: Top Mined Blocks
#1 - Shoblette - ~ 23,857,000
#2 - siminq - ~ 14,912,000
#3 - RPPR - ~ 13,005,000
#4 - Xiistaf - ~ 10,097,000
#5 - Remix1256 - ~ 9,951,000
#6 - ObeyIsHot - ~ 9,372,000
#7 - Craz33 - ~ 7,643,000
#8 - Kalex31 - ~ 6,923,000
#9 - xdSimple - ~ 6,148,000
#10 - whippingcream - ~ 6,140,000
Most Chests Looted
#1 - Libtard - ~ 750,000
#2 - _Trap - ~ 570,000
#3 - mony105 - ~ 526,000
#4 - TSUTT_ - ~ 520,000
#5 - liambgames - ~ 510,000
#6 - belowkey - ~ 497,000
#7 - widow123456 - ~ 423,000
#8 - Shoblette - ~ 345,000
#9 - Kalex31 - ~ 293,000
#10- 2086 - ~ 266,000
Written by RedBloomingRose.
Survival Highlights!
Build Competition!

As you may already have seen on the pinned forums post, there is another build competition going on for survival. The theme for this one is
Medieval Builds
.
You can either enter as a team or a solo builder, but there are rules that you will need to follow when submitting these in order to make sure you don't get disqualified from entry. The competition will close on Sunday the 24th May and the winners will be announced a few days later.
Prizes of crate keys and exclusive particles are up for grabs, so don't hold back. Get your creative hats on and get building!
All rules and further information about the competition, including how to enter, judging criteria and where to post your finished builds can be found here
---
Easter Egg Hunt!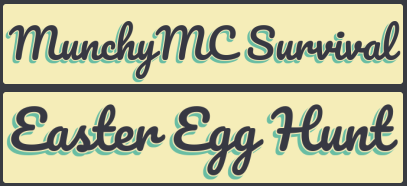 On Easter day some of the survival staff team hosted an amazing Easter Egg Hunt! This was inside a beautiful build made by a collection of very talented individuals and was a huge success.
Congrats to the winners:
1st Place: @kyannny
2nd Place: @JJC17
3rd Place: @Idealist
They successfully managed to unscramble the phrase BAGEL MONSTER before the other 50 or so contestants.
---
General Server Updates:
The player cap has been increased to 100 SLOTS
Written by Ibby.
WoolWars Highlights!
Update Released
As some of you may be aware, after much hard work from @Warlock505 and @Fumaz WoolWars has undergone some major changes recently. We have: added a brand new hub courtesy of @Hi_Im_Mikey, added some new kits to play around with, added tournament mode, added new maps, fixed a lot of bugs, added parties, added duels and lots of other cool features that you can read more about over on Warlock's update post.

---
Kit Creators Competition
Also this month, due to the recent influx of players and ideas we have had from the community we have decided to host our first WoolWars kit creators competition, further details on this can be found on my competition post. The competition will be open for submissions until May 3rd so be sure to read it through and submit as many ideas as you like, there are prizes (some exclusive) up for grabs including having your kit designs be put into the game permanently.
---
Stat Resets
More recently we have added a /statsreset command per community request! Please be careful while using this though as it is a one time use command for players to be able to reset their stats, this to celebrate the new update and bring a fresh start for those who want one!
That's about all there is for this month just gone on WoolWars, but expect cool new content coming soon.
---
WoolWars Media Spotlight
This month @BLOKBASHER made a really cool video on the new update with some amazing cinematic shots!
---
Interview with the WoolWars Manager
I wanted to finish off my section this month with an interview of the WoolWars server manager himself @Warlock505 and get him to answer a few questions about the server update and it's development as I am sure everyone is curious.
Q. What are you most excited for the players to see in this new update?
A. What I think the players are most excited to see is the new party mode. With this new feature, you can now play with your friends all in the same lobby. I know in the past how frustrating it could be to try and join a lobby and at least one of your friends doesn't make it in with the rest. This way, you easily play together.
Q. What has been the hardest thing to deal with while this update was in the works?
A. I don't think anything was to tough to work with. We had a lot of help testing the features as @Fumaz made them and implemented them, so any bugs we found were easily corrected as soon as possible.
Q. Were there any funny bugs that have since been fixed that happened during development?
A. While @Fumaz was developing a new generation for the chests in the arena, something obviously went wrong. Instead of the random chest spawning like you see now, every single block in the arena was turned to a chest. Imagine that.
Q. Will you be looking to update woolwars on a more regular basis or will we be getting large but infrequent updates to the server?
A. We plan on updating Wool Wars regularly from now on. @Fumaz has done a wonderful job with this huge update, so it is no concern of mine that we will not be able to add new and excited things to the gamemode we love.
Q. Can you give us any hints as to what we can expect in the future on woolwars?
A. We have started planning the next update, but things could change. One thing we want to add at some point, which I think you all will like, is leaderboards. We plan on adding them very soon, which will add a nice feeling to the gamemode.
Thanks to @Warlock505 for taking your time to answer these for me :)
Written by TheBoop.
---
And that is all for this month!
---
Thank you all so much for reading! We on the Newsletter Team all hope you thoroughly enjoyed the newsletter, and we can't wait to see you guys next month!
- Dishrespect