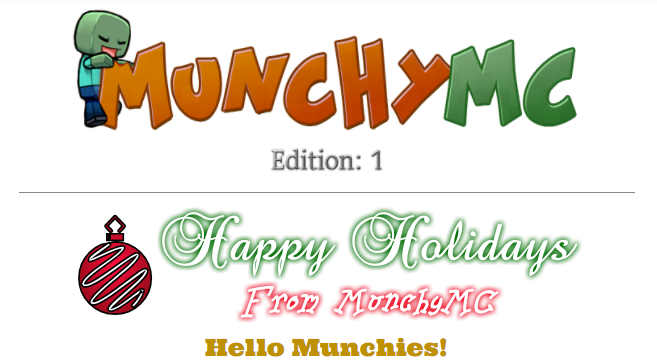 Happy holidays and a happy New Year to everyone! Welcome to the first edition of the MunchyMC Newsletter! The staff hope that by keeping the community informed, the server will continue to grow and flourish. The MunchyMC Newsletter will be posted at the end of every month, so be sure to check back and see everything big that's happened each month. Feel free to give feedback in the comment section below and without further ado, let's get started!


The server admins had originally made butterfly clicking a bannable offense (because of the similarity to auto-clicking), but, due to concerns brought up by the community, decided to retract this decision. You will not be banned for butterfly clicking, but anyone who is banned for auto-clicking cannot use the excuse that they were merely butterfly clicking. For more information, please see this thread: Reconsideration of Butterfly Clicking

The prison community has been getting their holiday spirits up by competing in a cell designing contest! Players have had little over a week to perfect their holiday-themed cells before the judging took place on BadBoyHalo's stream. To see the results, either check out his stream here: BadBoyHalo's Stream, or take a look at our results thread here: Cell Design Contest Results are in!

To help keep track of everything that has been updated on kitpvp, the developers decided to include a change log for you all. We will be mentioning some of the changes below, but feel free to check out their thread here: KitPvP Update

(As this is the first edition, we will be including last month's promotions/resignations as well).


@Reakles → SMod/Officer
@Cookiedough777 → Prison/Kitpvp
@presentpaw → Prison/Kitpvp
@Warlock505 → SMod
@EUFLOATY → Prison/Kitpvp
@HappyMan → Developer
@TheRedVelvetCake → Officer
@TheCyberCreeper → Guard



@qAshley
@Sourpatches


@EUFLOATY
@presentpaw




@Hoan
@Khrome
@Ziberplays
@Cookiedough777







@LordBobby104 and @Callahan have been implementing new changes and additions to KitPvP. Below are some of the most notable changes so far:
New Kitpvp map (made by iGotchu, so give him your thanks if you see him)
New Automated Event, One In The Chamber!
Much more in store, so stay tuned!
In addition to this month's changes, LordBobby has been working on something very special behind the scenes. No details yet, but great things are coming for KitPvP! Here is a little teaser of one of the big additions ahead:

(Please see this thread for more information: KitPvP Update - #4)

@Callahan has been hard at work adding in new sets as well as squashing bugs on prison. Below are some changes.
New set additions such as Palutena, Captain Toad, and Bowser
Christmas special items (found only in Christmas crates)
New lag fixes (less lag = more fun!)
New minigame called prison break
More in store for later, so stay tuned!

What? Smash? You heard it right, guys! HappyMan has been working behind the scenes on a not-so-secret new gamemode for everyone! This new server will be based on McPvP's old Smash server and takes inspiration from the famed Super Smash Bros. game series. As of now there is no set release date, but testing has begun. Stay tuned for the release information.


Want to get in on some lighthearted fun while testing the upcoming Smash gamemode? Contact @presentpaw to be added to a group chat for details about testing group times. Sessions are very loose and you may come and go as needed, but typically last an hour or two.
No one likes a cheater (not our beloved cheater_ :P), but no one likes the person who does nothing about a cheater either. If you see something, say something by using /report to inform a staff member. Additionally, you can record the rule-breaker and post your proof over at MunchyMC.com/support to be a bigger part of the solution.

Which kit on KitPvP is your favorite? Which is your least favorite? Why? We're curious to see what you think. Please post your responses down below!

New users to our forums - 75
New topics created - 19
Topic flags - 2 (remember to flag something you deem against our rules)