New MunchyMC Lobby
Ahoy Munchies!
It's time to grab your pirate binoculars and turn up your render distance for captain @Ranger_Gilan has steered your pirate ship into uncharted waters reigned by majestic and equally frightening creatures. Load the cannons and launch yourself over to the newly discovered island to go exploring or become a true pirate legend by being the first one to reach the treasure at the end of the parkour!
Hey guys!
One of our new builders, @Ranger_Gilan, has built a stunning new hub for all of us!
While you're patiently waiting for the next prison reset or a server restart, why not spend your time exploring this mystical island and its inhabitants?
To celebrate the new build, we'll be giving away 3 months of legend instead of the usual 1 month of Elite to the first player that beats our parkour (without cheating) and records it, too!
Thanks again to Gilan whose hard work has made this possible!
Of course, I am not going to let you guys go without any teasers, so here we go:
Firstly, I would like to share a render that @RodorocsPride (cougar_m) has made for me. Special thanks to him are in order at this point!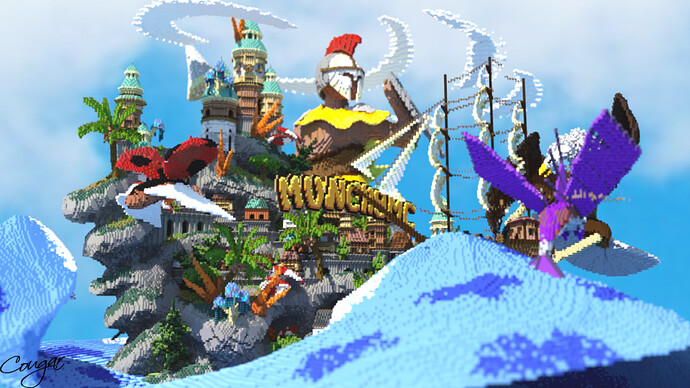 And here are some screenshots I took of the map!
Screenshots
If you want the full experience of this piece of art, be sure to turn your render distance as far up as you can. The map is quite large and you don't want to miss out on details because you're too far away from them!
Kitpvp Event Maps
We just got a new hub but… there is more?!
Yes, you're darn right about that! For those of you that have played a lot of kitpvp recently, it won't be a big surprise to hear that we have added some new event maps. If you haven't seen them yet, be sure to take a look. I am sure you're gonna like them!
1. Sumo Map By Hi_Im_Mikey
2. OITC Map By 4ao
3. War Map By Dewster
But wait, there is even more! Over the next few weeks we will continue to push gorgeous maps! Expect to see new maps for Feast, War, Brackets and OITC!
Let us know which gamemodes and events you think deserve a bit of a makeover! Can't wait to hear your suggestions!