As promised, we are back with a full edition of the monthly MunchyMC newsletter! This month, we are celebrating all things spooky as we look back at what happened in 2021's October.
---
Promotions
Senior Moderator
- Spookymystix has been promoted to Survival Senior Moderator!
Moderator
- HELIXED has been promoted to KitPvP Moderator!
Helper
- ZeePog has been promoted to Survival Helper!

- Sript has been promoted to WoolWars Helper!
Event Team
- llukasekj has joined the WoolWars Event Team!

- JimboTheDaddy has joined the WoolWars Event Team!

- Beapy has joined the WoolWars Event Team!
Senior Builder
- paengi has been promoted to Senior Builder!
Written by BFI01.
Staff Member of the Month
Before getting into this section, I would like to announce that this will be the final staff member of the month nomination. As a follow-up to the Munchy of the year awards, the staff member of the month award has not been able to live up to my expectations. I don't feel like I have been able to capture the same level of excitement in either the staff team or the community as I had hoped for.
Furthermore, the staff team is simply too big and too diverse for me to pick a single staff member to highlight every single month. And to be quite frank, I don't think I am active enough, definitely not on all parts of the network, to make a fair decision on this. That being said, I think that I have been able to cover a wide variety of different (and fun) staffing aspects over the past few months.
In the next few weeks, I will publish the nominees for the Munchies of the Year 2021 instead. Let's have a final look at the staff member of the month now!
TwinkieWinkie

I would like to end the Staff Member of the Month award on a fun note and who is more suitable for such an award in October than @Twinkiewinkie, who has (co)-hosted 3 different Halloween events on 3 different servers! Personally, I have only been able to attend one of them, but I have witnessed how much joy she has brought to the entire survival community this Halloween and if that doesn't deserve a nomination, I don't know what else does.
A list of all winners of the Staff Member of the Month award can be found here.
Written by cheater_.
---
KitPvP Highlights!

We haven't seen KitPvP news been packed for a while, huh?
Well, that time has passed. Get ready because KitPvP news is back with a lot of exciting news!
KitPvP Halloween Skin Contest Winners
An amazing Halloween Skin Contest was hosted by @Twinkiewinkie, @SizzleBurger and @SpookyMTC! There were many amazing skins but unfortunately only a few could win.
Lets check out the winners shall we?
Cutest Skin:

ViolentRay


Jusimaj


kuami
Scariest Skin:

SpookyLilli


ViolentRay


EgirlSplfey
Best Halloween Pair:

ViolentRay & danior1


ZALDREX & azenti


skepstab & AlanGoesBoo
Best Overall Skin:

SpookyMoonlight


infernalfae


zaid1234
Halloween KitPvP Map
KitPvP has seen the return of the glorious Halloween Map created by @Hi_Im_Mikey!
With that the random spawn of ender chests around the map has also returned and many players have been decimated and many souls have been harvested!


Rampages
For the first time in a long time we've seen the return of Rampages causing many players getting completely swarmed by people trying to kill them, I must say that is an amazing sight to look at.

That concludes the KitPvP news for October folks! Come back next month to see even more thrilling KitPvP news!
Written by DutchMTC.
Prison Highlights!




DO





YOU





LIKE





EMOTES??


You can now satisfy all your chat emoting needs with the new prison emote pack, which is purchasable on the MunchyMC store.


Type /emote list in game to get started.

I hope you have a huge stash of legendary rares, because this month we have also added FOUR new fabled items - Thanos Boots, Flash Pickaxe, Deathstroke Calves and the Black Panther Legs.
You can view the full list of updates, bug fixes and item adjustments by typing /changelog in game.

Top Ranked
#1 - NotOryx - (28)(A3)
#2 - liambgames - (27)(B1)
#3 - PotatoUpMyAss - (25)(B3)
#4 - Joedaboss - (24)(A3)
#5 - Teenyrobot - (24)(A3)
#6 - Mushycheeks - (24)(B2)
#7 - iNateCo - (22)(B3)
#8 - SCRUBEE - (21)(B3)
#9 - Chance1337 - (21)(B3)
#10 - Leewayy - (21)(D1)
Top Mined Blocks
#1 - Palm_Tree - ~ 43,716,000
#2 - Shoblette - ~ 40,672,000
#3 - RubyFeynix - ~ 33,129,000
#4 - DanSwag_ - ~ 25,625,000
#5 - Chance1337 - ~ 18,496,000
#6 - akxmii - ~ 17,046,000
#7 - ___Floki___ - ~ 15,021,000
#8 - ObeyIsHot - ~ 13,724,000
#9 - rozies - ~ 12,226,000
#10 - mony105 - ~ 11,244,000
Most Chests Looted
#1 - liambgames - ~ 2,231,000
#2 - Scrubee - ~ 1,969,000
#3 - HqLo - ~ 1,513,000
#4 - sarmsfelix - ~ 1,356,000
#5 - widow123456 - ~ 1,086,000
#6 - februarys - ~ 1,041,000
#7 - N0X - ~ 1,000,000
#8 - ignLeaf - ~ 898,000
#9 - GGGNIKCALBIZ - ~ 855,000
#10- finessedkid - ~ 754,000
Written by dxlicaterose.
Survival Highlights!

Hi there folks! A loooot has happened this month so let's jump in, shall we?
I. Spooky Fishing Update !
Kicking off this spooky season, the Spooky Fishing update was released! Perhaps a world record amount of people fishing at one time were fishing at the Spooky Lake these past few weeks! While fishing, you could fish up a trick, or you could fish up a treat, and the treat chances increased by every person at the lake! For a trick you could get as little as a piece of Seaweed, at most, well, let's just say the Hellish Cubes truly lived up to their name. For the treat, you could get custom spooky heads, but the most exciting of all was the exclusive 'TrickOrTreater' tag!
TrickOrTreater Tag!
The fishing update also came with another spooky surprise! Every 2 hours, a Witch's Bat would spawn at the lake, bringing wonderful goodies! When killed, the Witch's Bat would drop things such as gold, netherite and tridents! Were you lucky enough to get some?
Thank you to the wonderful @RossRao and @Fumaz for working on the Spooky Fishing update!
II. [RESULTS] Vacations Build Competition !
The second very exciting thing that happened this month was the results to the Vacation Build Competition! The builds everyone entered were fantastic, and we thank everyone for their participation, and now here comes our winnersss!

A Sweet Vacation
Built by: Ghxstie
They won:
-An Exclusive Coloured Glow Effect
-8 Crate Keys
A Sweet Vacation

Hero's Desire For A Vacation
Built by: VioletRay, danior1, Severtrim
They won:
-One Month VIP+ Rank
-An Exclusive Coloured Glow Effect
-10 Crate Keys
A Hero's Desire For A Vacation

Splishy Splash!
Built by: paengi, Kybz, kaittt
They won:
-One Month VIP++ Rank
-An Exclusive Coloured Glow Effect
-15 Crate Keys
Splishy Splash!
Congratulations to all the winners!

III. New Fall Crates !
The new Fall Crates have been released!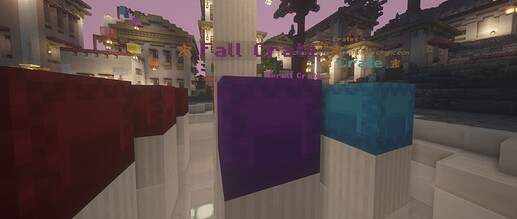 Using amazing ideas from various people to make the wonderful new gadgets and cosmetics, the Fall Crates have been released ! You can buy the new crate keys using here!
And once again, @ViolentRat has updated the Crate Item Guide, which you can find here!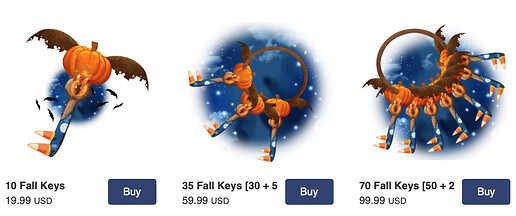 A huge thank you to the wonderful @Aiadeva for creating the beautiful artwork for these keys! It's absolutely stunning, we love you Aia! Thank you for everything you've done for Munchy
IV. Survival Halloween Skin Competition !
This Halloween, a very spooky skin competition was hosted by @infernalfae, and judged by @DragonsMaker, @ViolentRay and (of course) the resident clown @oCrypt! Let's see the winners shall we?

kaittt and Axpectt!
They won:
-One Exclusive Ghastly Ghost Plushie
-One Fall Crate Key

Eudaimonox!
They won:
-One Exclusive Macabre Monster Plushie
-Three Fall Keys

Twinkiewinkie!
They won:
-One Exclusive Revolting Reaper Plushie
-Five Fall Keys
Thank you to all who showed up and participated in this event! All the skins were absolutely amazing, and it was honestly hard to pick a winner. Thank you also to the amazing @RossRao for making the exclusive plushies and the wonderful @Spookymystix for building the beautiful arena!
V. Survival Trick-Or-Treat Mini-Event !
Our wonderful @Twinkiewinkie hosted a Trick or Treat Mini-Event in the Survival Spawn on Halloween Night!
Trick or Treat
People gathered in spawn, dressed in their spookiest skins, and gave out treats to all their friends. It was actually quite wholesome, thank you Twinkie for hosting, and thank you everyone who showed up! There was an extremely large turnout, and even some small events were hosted after the Trick-Or-Treating!
---
Anyways! That's all for now folks! October really was an action-packed month for Survival, huh? Thank you for reading!
Written by infernalfae.
Wool Wars Highlights!
Warning: anyone reading further will risk being sent to Brazil.
---
Oh no please don't send me to Brazil I have a family

Luckily, you survived, but your luck will soon run out. Now that I have your adrenaline pumping lets get to the highlights of this month.

Wool Cup

Wool cup is officially over! Eleven teams of four players each competed in a round robin tournament lasting over a month. The scores have been tallied, and I'm proud to announce team Chad (Soluscontinuum, Availia, Spectro_VI, Zachdontfall) as the winner, with team Israel (Zombiebot1, JUST511, Bwina, TwinBattleBLT) and team Italy (EvillRat, UnderageScience, Lukasec306, Joekoe) tied for second place! Congrats to everyone who participated! Make sure to thank Bea and Zee (wow their names even rhyme) for hosting this wonderful event!

Race to 100 wins

Wool cup wasn't the only competition this month. On October 13th, Our beloved manager BFI01 kicked off one of the most creative and innovative events woolwars has ever seen. The rules were simple: The first person to reach 100 woolwars wins wins the competition, and takes home the coveted WOOLY tag. This event brought many of the top players into woolwars, but only one succeeded. Twelve hours after the event started, Soluscontinuum reached 100 wins and became the first ever player to earn the golden wooly tag. Thank you so much to everyone who participated.Events like this are what makes woolwars the best gamemode on this server.

Click here for a chance to duel badboyhalo in woolwars!


HAHA GOT YOU

I hope you like Brazil, cause that's where you'll be for the rest of your life
---
That concludes this months woolwars section. I want to thank every member of this community for being so amazing. No other server has a playerbase like ours, and it's one of the things I love about woolwars. See you next month!
Written by Zombiebot1.
Survival Games Highlights!

Survival Games has finally seen the day of light hitting a whopping 40+ Players!

Survival Games Spooky Event Winners:
For Halloween @Twinkiewinkie hosted an awesome Survival Games Event pulling many players into the most underrated gamemode of MunchyMC (@Fumaz don't yell at me).
After 6 games of fun and rage a few winners were picked to play in the finals where they battled it out for the prizes.
Lets take a look at the winners!

1st Place: s0mr

2nd Place: SpookyCharles

3rd Place: DutchMTC

4th Place: Ironnose
5th Place: xxxBlue

6th Place: Beelzebeel
Survival Games Discord Server:
Want to be notified of SG Games, Events and more?
Join the official MunchyMC Survival Games Discord!
Written by DutchMTC.
Newsletter News
As you may have noticed, @DutchMTC and @infernalfae have debuted on the newsletter this month and together with @ZombieBot1 they will be the newest official additions to our newsletter team. I'd like to thank everyone else who has shown interest in writing for us by applying! If we ever need more editors, we will get back to you amazing folks!
Written by cheater_.
---