---
MunchyMC Newsletter: Edition 11
Ahh, Munchies

October is at its' end and, well, okay you know what no one reads this intro thing so let's get on with that already right CatTech riiight

---
PROMOTIONS!
---
Do I remember everyone who was promoted this month? Let's find out

Two young men have achieved JMod this month: @Nikolas and @KawaiiGrill!

@Craz33 has been chosen as our next Prison Staff member

@NoEffortName is our newest, pinkest Helper

Although not official yet, the applications of @oizn and @Purppz have been selected for review

@oBears has dropped the J and is now Moderator

@Brush_Your_Teeth is our newest Forum Moderator

and @cheater, o hai

Now Munchies, this is still speculation, but if my sources are correct, @JoshyYT may be appointed to a very special position in the near future. I won't tell you what though

.
Nice work you people

climbing the ranks

---
Munchy Halloween
Thanks to the work of our Build Team we got to enjoy a nice spooky theme of our well-known map

and indulge in the Halloween spirit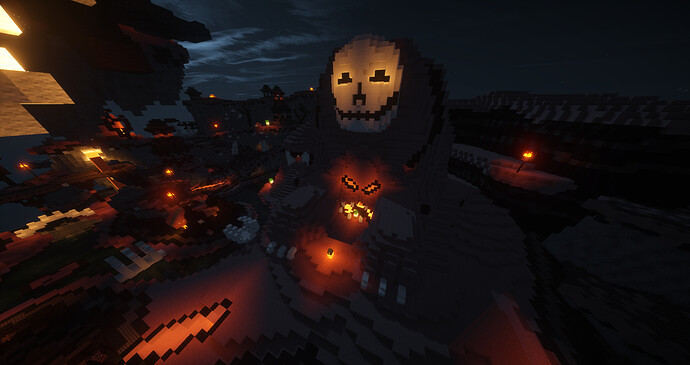 Credit to @saladbutter for the epic pic

And surely you must have seen these special chests lying about the map, and have gotten tons of golden apples and tokens and repairs, yeah



NO

why do I… KEEP GETTING MY SOUL DECIMATED



I targeted @Sadneo in Super Sumo ONE time, I DON'T DESERVE THIS



but yeah, personally I'm glad for the hard work and effort the Builders and the Devs put in to having this little update

can't wait for next year

---
Triple Q&A - KawaiiGrill, Nikolas, and Craz33
With the recent promotions of these fellows, it was best that we got to know them a tad more

here's a triple Q&A with @KawaiiGrill, @Nikolas, and @Craz33.
---
Q1: What country are you living in?
KawaiiGrill: Austria
Nikolas: The US! But I moved here from the UK
Craz33: USA, Alabama
---
Q2: Favorite KitPvP Kit?
KawaiiGrill: Hornet because it's well rounded and has a lot of strengths to play with (decent burst damage with stinger, a dash and no fall damage)
Nikolas: Tank because I'm a noob and I need the extra armor
Craz33: Slingshot/Archer
---
Q3: Favorite Fruit?
KawaiiGrill: Blackberries
Nikolas: Passion Fruit
Craz33: Oranges
---
Q4: If Munchy's logo did not feature a zombie, it would instead have ___.
KawaiiGrill: First things that come to mind would be something related to munching. Maybe pizza?!
Nikolas: A cupcake or something else foodish
Craz33: A cake
---
Q5: Would you rather eat a box of dry spaghetti noodles or a cup or uncooked rice?
KawaiiGrill: If I can use sauce I would take the rice for sure!
Nikolas: A box of dry spaghetti…both sound unpleasant though tbh
Craz33: Dry spaghetti noodles
---
Q6: What auto-event do you enjoy the most?
KawaiiGrill: No teaming mode…just kidding. My favorite event would be either War or Solo Dodgeball
Nikolas: Super Sumo!
Craz33: Free Kits
---
Q7: Would you rather be a master at bowling or curling?
KawaiiGrill: Bowling. Seems like a skill that you would be able to show off compared to curling because it's an activity that is much more common
Nikolas: Bowling
Craz33: Bowling
---
Q8: Favorite Cat Emoji (very important)?
KawaiiGrill: Smirk Cat! I would also like to see a thinking cat emoji
Nikolas: Mmm they're all equally…good?
Craz33:

Goood answers lads, hmm

---
A Legendary New Rank
Just this week, BadBoyHalo himself dropped a new rank outta NOWHERE
and I dropped 30 dollars on it before he announced the discount

however, the new LEGEND rank has a few cool perks that stand out:
Epic BLUE tag with the squiggles
30,000 tokens included with purchase
Type in COLORS rainbow spam
Ability to host Legend-exclusive events, as part of our new Event system overhaul
100% increased tokens on player kills
---
Community Polls
Press F if you've been banned for Ping Spoofing this month.
Throughout the Halloween Event, have the chests you opened been more Tricks or Treats?
Tricks
Treats
soul decimation
cheater_: "Canadians are evil"
sorry
no u
reee
REEEEEEEEEEEEEEEEEEEEEEEEEEEEE
---
That's It!
Well done everyone on another successful month

some cool things took place and we should strive to be like this every month

full of excitement yes. As always if you have another suggestions you want me to hear concerning the newsletter do tell me

and see you next month I think