---
MunchyMC Newsletter: Edition 30 - July 2020
Welcome back to the monthly edition of MunchyMC's Newsletter! This month has been quite eventful for sure- in-game and out of the game. We have much to share with all of you, so without further ado, let's head right into it!
- Dishrespect
---
Promotions
Developer

- DarkKnights22 has been promoted to Junior Developer!
Helper

- Twinkiewinkie has been promoted to Survival Games Helper!


- spookywilloww has been promoted to Survival Helper!


- KiwifishAuKiwi has been promoted to Survival Helper!
Event Team

- finessedkid is now on the Event Panel!


- 3213312Egg has joined the Event Team!


- zaniki has joined the Event Team!


- SierSmellyKiwi has joined the Event Team!


- Bananaskin_PVP has joined the Event Team!


- iiRaidz has joined the Event Team!
Build Team

- SierSmellyKiwi has become a Senior Builder!


- Quorafied has joined the Build Team!
Idea Team

- Gre3nThunder has joined the Idea Team!
Written by BFI01.
---
--|~News!~|--
KitPvP Highlights!
With the much anticipated KitPvP 3.0 update under production for the past few weeks, and progress coming along nicely, we hope that within the next couple months a new refresh to Munchy's most popular gamemode will be launching.
While there's not much information we can give at this moment, we hope that in a few months time, joining KitPvP will be a different, refined experience :)
Written by Examiner.
Survival Games Highlights!
Season 1 of our Survival Games server has concluded! Next month will announce the winners along with any new information to come along! While this season had lower than optimal activity, we hope that some optimizations in the near future will allow for the stability of the gamemode to support larger playerbases.
Written by Examiner.
Prison Highlights!

This month prison saw the reintroduction of fabled rares! You can craft them by putting 4 of the same legendaries in a crafting bench with a fabled shard. For those that are above prestige 10, ranking up will now reward you with a fabled crate (which rolls you one of the new fabled rares)!
The drug farmers in the prison are in luck, as there is now a new crop to start harvesting! Magical Cactus will drop emerald blocks upon harvesting, making it easier than ever to stack up on cash with drug farms! Loot chests can now also be found in the melon mine, and a new smaller melon mine has been added to the prison. Farm cells are hard to come by, so new cells have also been added!
There is now a /warp parkour to satisfy all your parkour needs! If you manage to complete it successfully, you will also be able to stack up on some free cash from the magical cactus farm at the end of the parkour!
Finally, this map also saw the introduction of a new criminal crate special rare, a new ultra, and the Bellatrix ultra legendary set is fully craftable!
You can view the full list of updates and item balancing by typing /changelog in game.


Here are the current leaderboard positions! Remember that there will be prizes for the highest ranking players!

Top Ranked
#1 - Shoblette - (XIX)(C1)
#2 - Trill_On_Top - (XVII)(New)
#3 - whippingcream - (XIV)(B1)
#4 - NoobMangler96 - (XIII)(A3)
#5 - Kalex31 - (XIII)(B4)
#6 - liambgames - (XII)(A4)
#7 - Xiistaf - (XII)(A2)
#8 - Napkin0fVembz - (XII)(B1)
#9 - csbenba - (XI)(B1)
#10 - Fulceny - (X)(A4)
: Top Mined Blocks
#1 - Shoblette - ~ 38,257,000
#2 - ObeyIsHot - ~ 19,514,000
#3 - Remix1256 - ~ 16,145,000
#4 - OlympicStar42 - ~ 15,796,000
#5 - siminq - ~ 14,912,000
#6 - SadGh0sst - ~ 13,222,000
#7 - RPPR - ~ 13,049,000
#8 - toccataski - ~ 12,074,000
#9 - Xiistaf - ~ 11,014,000
#10 - DanSwag_ - ~ 9,559,000
Most Chests Looted
#1 - Libtard - ~ 1,342,000
#2 - csbenba - ~ 1,187,000
#3 - TSUTT_ - ~ 1,098,000
#4 - liambgames - ~ 1,088,000
#5 - whippingcream - ~ 1,034,000
#6 - blokkk - ~ 813,000
#7 - Gould_ - ~ 685,000
#8 - _Trap - ~ 651,000
#9 - 2086 - ~ 636,000
#10- mony105 - ~ 590,000
Written by dxlicaterose.
Survival Highlights!
1.16 Update Released!

1.16 is here!
The survival server update earlier this month to include all of the brand new 1.16 content! We tweaked the spawn rates of a few blocks and loot items to make sure our gold-based economy doesn't get negatively affected by the change, but all the exciting additions can be found in the nether world and the brand new…
Underworld Realm

In response to a lot of community suggestion and feedback, we added a whole new world to the server! The Underworld is a permanent, non-resetting nether world (seperate to our regular resetting nether) for all of your building, base making and farming desires. It's a 30k x 30k world that you can make claims inside, and /rtp about to explore and find the perfect spot for you!
More information can be found here
---
Build Competition!


Congratulations to our fantastic winners of the Good vs Evil Build Competition! The creativity of these builds was truly amazing!
These amazing entries can be seen here. You can also view all the builds in person on the survival server!
First place went to Rimurulu and Never_Again1 with their build Battle of the Dragons
Click to view their build
Second place went to Arkhanian, SierSmellyKiwi and Aiadeva with their build A Corrupting Day
Click to view their build
Third place went to Audly and Calebistheman with their build There are Snakes in the Mesa
Click to view their build
Well done guys!
---
General Server Updates:
Whole server updated to include 1.16 content
New Underworld realm released! (info here)
/rainbowchat perk added to the doubleplus rank
Warp totem system updated and improved
Made it easier to keep track of all your offline transactions with messages on login
Made tp request messages clickable
Transferred all survival donor ranks onto a new and improved management system
Player cap upped to 105 slots
Forums Guide to Survival updated
Written by Ibby.
Wool Wars Highlights!
This month for woolwars, not many things have happened, but the things that are happening… they are big.
Map Building Competition Winners!
Early this month I announced the winners for the map building competition, he's a sneak peak at some of the maps built! Congratulations to baqquette, Alkemystix and DaanB100 for having their amazing builds selected to be soon added to the duels map rotations.
---

---

Woolwars Tournament!
As many of you have likely already seen we will be hosting a tournament on woolwars on Friday August 7th at 4:30 pm EST, this tournament will consist of 5 games of up to 125 players, with the top players of each game moving on and playing in a winners game to see who is the best!
More information on this tournament can be found here.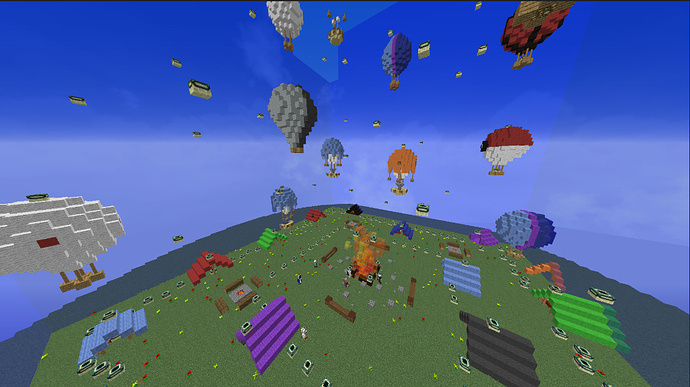 The Woolwars Experience: PSA
We know a lot of players have been having issues on woolwars recently, with the shops down for testing and the daily lag we are experiencing, it doesn't bode for the best gameplay. I do apologise on behalf of all the staff team for this. But our developers have been very hard at work in trying to fix these issues at the root cause instead of just putting a bandaid on the wound and hoping it fixes itself. So be sure to show tonnes of appreciation for both Fumaz and Callahan for all the effort they have been putting into the gamemode, making sure it gets the love and attention it needs.
We also have lots more exciting features planned for future but right now that's all behind closed doors so you will just have to keep your eyes peeled for what is to come <3
Written by TheBoop.
---
Marni Interview
Marni is a new Junior Developer that has joined Munchy only recently, I thought it would be cool for everyone to get to know a bit about them so I conducted an interview with them to find out a bit more.
Questions:
Click the questions to see the answers.
What/who brought you here to Munchy, and what made you stick around?

I was looking at some YouTube videos and saw the youtubers play on Munchy. I thought they had some really cool and interesting game modes so I decided to check it out myself! When I first joined, I immediately realised the server was highly custom and I can really appreciate such hard work. After joining the Discord, I saw that the server had a really dedicated staff team and a nice community and it was at that time that I knew this was a server I'd like to play on.
As a Junior Developer here on Munchy, what work have you been assigned?

I currently work on the 3.0 update for KitPvP! My job is to add a bunch of new stuff (stay hyped) but also to give the stuff that's already there a new look! I can definitely tell you the update will be worth the wait! After these tasks, I will be moved to a new exciting project but I don't know the details of it yet!
How long have you had a passion for coding and what's your favourite project you have worked on?

I've had this passion for quite a while now. At first, I didn't really do anything with it but then after some time, I decided to learn more and gain more knowledge. I got better and better and really made some cool projects. I don't really have a favourite project but I do enjoy making some funny things such as a mushroom bow (shout-out to the staff member who suggested it )
Do you have any areas of coding that you think you are particularly good at, and do you have anything you want to learn more about?

I don't think I'm particularly good at a certain area. I do love to create backend systems. I'm fascinated by the complex mechanisms that might be behind something as simple as a click of a button.
I would love to learn some more about networking as I think it's a pretty interesting.
Do you have any projects that you want to do on Munchy in the future?

Yes! My dream would be to create a new minigame for Munchy! Something special that I could be really proud of. If you'd ask me about a project in the near future, then I think I'd go for a project for the Survival server!
What's your favourite flavour of egg?

My favourite flavour of egg is chocolate.
How long have you known you were omega cool?

Since you just called me omega cool
Who do you idolize?

I idolize the almighty Callahan. He still didn't accept my friend request and I respect that. One day he will notice me!
Tell us something interesting about yourself?

My hobbies are learning, player the guitar and swimming.
Very interesting!
From everyone on the staff team and the community: Welcome Marni
Written by TheBoop.
---
And that is all for this month!
---
Thank you for reading! I hope this newsletter has found all of you well, and as per usual, we here on the Newsletter Team all wish you a happy August!
- Dishrespect