---
MunchyMC Newsletter: Edition 25 - January 2020
Welcome back to another official MunchyMC Newsletter! We have a lot of new things coming up, so be sure to read all the way through. Enjoy!
- Dishrespect
---
Promotions
KitPvP

- Examiner has been promoted to KitPvP Manager!


- Gawkyy has been promoted to Moderator!


- Errxr has been promoted to Moderator!


- NoEffortName has been promoted to Moderator!


- CryptWarror has been promoted to Moderator!


- Hardah has been promoted to Junior Moderator!


- xShrek has been promoted to Junior Moderator!


- Rainfalls has been promoted to Trial Moderator!
Prison

- RedBloomingRose has been promoted to Sheriff!
Survival

- Ibby_ has been promoted to Survival Admin!


- RossRao has been promoted to Senior Moderator!
Woolwars

- TheBoop has been promoted to Moderator!


- CryptWarrior has been promoted to Moderator!
Helper

- Idealist has been promoted to Survival Helper!


- Queen_Snow_ has been promoted to Survival Helper!


- ThyCosmos has been promoted to Survival Helper!


- Alithita has been promoted to Survival Helper!


- 1WhiteFang1 has been promoted to Survival Helper!


- Chaelosm has been promoted to KitPvP Helper!


- oMaggie has been promoted to KitPvP Helper!


- Platinumxo has been promoted to KitPvP Helper!


- Craz33 has been promoted to Prison Helper!


- EeveeNoises has been promoted to Woolwars Helper!

- Minyzombie has been promoted to Woolwars Helper!
Event

- EeveeNoises has joined the Event Team!


- oMaggie has joined the Event Team!


- Platinumxo has joined the Event Team!


- ThyCosmos has joined the Event Team!


- Sapnap has joined the Event Team!
Build

- Hi_Im_Mikey has been promoted to Co-Manager of the Build Team!
Idea Team

Craz33 has joined the Idea Team!
Written by Gawky.
---
--|~News!~|--
KitPvP Highlights!
We have a new Event Spawn! For those that participate in the weekly streams our owner Bad hosts, you'll see this quite a bit!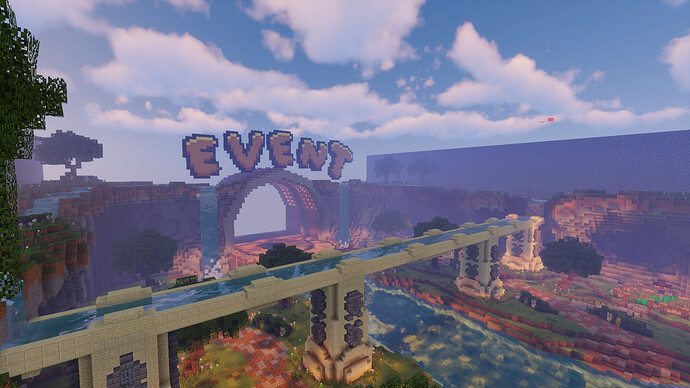 Credit to BLOKBASHER for this awesome build!
While I hate to write to everyone that once again we don't have any major updates to announce to Kit, I can confidently say that the future for Kit is looking bright. Expect some major changes coming to the gamemode very soon, which everyone should enjoy! If you have any suggestions or ideas on what you would like to see added to Kit, please message Examiner on discord!
Written by Examiner.
Prison Highlights!

This month we had a big update for the gamblers with epic casino crates and a new casino event! With casino crates, you have the chance of receiving gambler and pickpocket specials to satisfy all of your gambling needs!
Casino Royale is a newly introduced casino event that enables pvp in the casino for a few minutes… however, you receive 1.2x the winnings from the casino machines, so it is definitely worth attending!
On top of the casino update, this month introduced a new legendary and the Newt ultra set, so you now have more rares to find outside and add to your growing collection.
There is also the new

rank available on the store for only $10 USD (the cheapest rank yet)!
Lastly, if you take a quick peek into the window at /warp pvp you might see that something new will be rolling into prison shortly.


This huge farming update will be released on Sunday, February 9th along with over 10 more rares… so be there or be square!

You can keep track of all of the latest updates, bug fixes and item adjustments by typing /changelog in game.

This map, all of your grinding will finally pay off as there will be prizes for the highest ranking players!
Top Rank:
1st: $100 Store Credit and a Legendary Rare named after you in Map 8
2nd: $50 Store Credit
3rd: $25 Store Credit
Most Ultras Found:
1st: $50 Store Credit and an Ultra named after you in Map 8
2nd: $25 Store Credit
3rd: $15 Store Credit
Most Cell Design Placings (Getting 1st, 2nd, or 3rd):
1st: $25 Store Credit and a Huge Secret Cell made for you 1 week after the release of Map 8

With that in mind, here are the current leaderboard positions!

Top Ranked
#1 - Shoblette - (IV)(C1)
#2 - casparwtf - (III)(D1)
#3 - obeyx3 - (II)(A3)
#4 - KodiakJackZilla - (II)(A2)
#5 - RedBloomingRose - (II)(B1)
#6 - xLuuk_ - (I)(A3)
#7 - xdComplicated - (I)(A3)
#8 - Crrown - (I)(A1)
#9 - Kalex31 - (I)(A1)
#10 - ZachMcD - (I)(A1)
Top Mined Blocks
#1 - Shoblette - ~7,978,000
#2 - obeyx3 - ~7,034,000
#3 - Xiistaf - ~4,640,000
#4 - Craz33 - ~3,866,000
#5 - Slimecreepers - ~3,716,000
#6 - RedBloomingRose - ~2,808,000
#7 - ICantComboWombo - ~2,757,000
#8 - Mony__ - ~2,702,000
#9 - ingbjomar - ~2,568,000
#10 - Kalex31 - ~2,515,000
Most Chests Looted
#1 - TSUTT_ - ~349,000
#2 - Mony__ - ~225,000
#3 - NoobMangler96 - ~164,000
#4 - DrownedInSound - ~142,000
#5 - casparwtf - ~120,000
#6 - liambgames - ~116,000
#7 - TheEmuWar - ~97,000
#8 - Kalex31 - ~95,000
#9 - KingLeon_ - ~89,000
#10 - BigEnglishBalls - ~88,000

I'll leave you with a fun fact - so far this map, over 4700 rare items have been obtained!

Written by RedBloomingRose.
Survival Highlights!
It's been a busy month on Survival!
We released some incredible Winter Crates with fantastic new pets, particles and gadgets. These are available on the MunchyMC store, but only for a limited time so get them while they're here!
My personal favourite addition is the adorable BabyCallahan pet

But the Frozen Bee is also pretty epic.
---

As you may already have seen on the pinned forums post, there is another build competition going on for survival. This one has a spicy twist - its for all your best CIRCUS THEMED MINIGAMES. We will be accepting entries of parkour maps, mazes, games, waterdrops, spleef, etc. Anything your heart desires, the more original and creative the better.
You can either enter as a team or a solo builder, but there are rules that you will need to follow when submitting these in order to make sure you don't get disqualified from entry. The competition will close on Friday the 14th February at Midnight GMT (7pm EST) and the winners will be announced a few days later.
Prizes like survival ranks, Winter Crate keys and an exclusive mystery surprise are up for grabs, so don't hold back. Get your creative hats on and get building!
All rules and further information about the competition, including how to enter, judging criteria and where to post your finished builds can be found here
---
General Server Updates:
The server has been updated with 1.15.2 support
Winter Crates have been released
As some of you will have probably noticed, I (Ibby) am now sporting a rather aggressively red ADMIN tag on the survival server. I have a new position of co-manager on the survival server with Antfrost, which is very exciting! We will be sharing the responsibility of all things from development to in game issues, so hit either of us up if you ever need us :)
After listening to feedback from you guys, we have also finally set a specific time and date for all extra worlds resets. These will now be happening at 3pm EST, every other Saturday. The next one will be taking place on Saturday 8th February.
As per usual, we have a bunch of exciting projects in the works behind the scenes, so stay tuned!
Written by Ibby.
---
Warlock505 Interview
You may have noticed the return of a familiar (if balding) face around the various different servers of MunchyMC - the infamous @Warlock505 is back! He's returned in style, taking up management of a few different teams around the server, including assisting with this months staff application season.
We pinned him down for an interview. Enjoy.
---
How and when did you first find Munchy?

I found the server back when MCPvP was sold. BadBoyHalo made this server and I wanted a new server to play on. I joined during (or around) the first month of MunchyMC being created, and the rest is history.
---
Tell us your history with the Munchy staff team.

My history with the staff team dates back to when I was promoted years ago by @DreamXD. @cheater and I got promoted around the same time. From then on, I passed my trial and got promoted to Mod a few months later. I took a break from Minecraft and enjoyed other games, and in this time many of my friends left.
I decided to join the server again maybe a year and a half later and within a few minutes, the memories came flooding back. Cheater was the first one of my old friends to convince me to stay, and as many know, he made me apply for staff. And that leads me to where I am today. Within the year of getting staff back, I was promoted to admin, making many new friends along the way.
---
What have you been doing in your hiatus from Munchy?

This past break I took, about a year, allowed me to finish a degree and start another in University, which obviously makes me have to split my time into classes, homework, family, and friends. It occupied my time so much, that I found myself having almost no time to game. Now that I have the time, I am trying to reconnect with the community. I love being a staff member here at MunchyMC, and being able to do that once again means a lot to me.
---
Tell us about the teams you now run for Munchy.

What my role as an admin covers are as follows; Manager of Wool Wars, Co-Managing KitPvP with @Examiner, and Co-Managing the Staff Team with @Antfrost. If you guys want to know more, just shoot me a message!
---
Which Munchy gamemode is your favourite and why?

To be honest, I have always loved the community of KitPvP. But when Wool Wars was in it's prime, I always had a blast playing in a tournament with @BadBoyHalo and others on TeamSpeak. The gamemode is just a blast, and I can't wait to show this community all the excitement the gamemode has to offer.
---
What is one of your most fond memories on Munchy?

My fondest memory had to be when I got Admin. The support from the community was awesome, and it made me feel really appreciated for all the work I put in. And it also lead to a great picture @cheater made for me:
---
Do you have a favourite current staff member?

It's hard to decide who is my favorite current staff member, so I will limit it to mods and below. @NoEffortName and I have been friends for a long time now, and coming back from my break and seeing he now has JMod made me very happy. Well deserved.
---
Do you have a favourite past staff member?

@iiRaidz has to be my favorite past staff member. He has been my friend for a very long time, and he was very good at catching hackers. He set an unofficial record for most bans in a month when he first got staff. (Don't quote me on that since it was over a year ago.) It was a pleasant time when he was watching for hackers.
---
What is one tip you would give to people applying to be on the staff team?

My one tip when trying to get a staff position is to just be yourself. We want people who love to help others and be a positive reflection of the server. Just keep doing great things, and we will take notice!
---
What is your favourite kind of takeout?

My favorite take-out would probably be sushi. I don't eat take-out usually.
---
Written by Ibby.
---
And that is all for this month!
---
As I said, this month has set us up for a lot of new and exciting things to come in the near future. Be sure to stay tuned and alert for any hints we may throw at you! Thank you all for reading, and we hope you have a great start to your February and Valentine's Day.
- Dishrespect