---
MunchyMC Newsletter: Edition 24 - December 2019
Welp, here we conclude another great year for MunchyMC and a great start for the new decade. Do people even read these? Comment "spoon" if you actually read this and confuse the lazy people! Hopefully everyone had a very happy holidays and a great New Years. We've got a lot to cover this month, so without further ado, let's begin!
- Dishrespect
---
2019 Munchy Recap
Hey, BFI01 here, hope you enjoyed the lovely Munchy Rewind our beloved @Examiner created for us! 2019 has been a very good year for Munchy with lots of updates, events and hackers banned, as well as the required dose of drama and controversies that have come and gone (phew). I am very much looking forward to this year - there will be many exciting things on their way, so stay tuned! What was your favourite moment on Munchy this year? Any pics to share? Anyway, happy new year and enjoy the rest of the newsletter :)
---
Promotions
Staff

- xShrek has been promoted to Trial Moderator!
Prison Staff

- Gawkyy has been promoted to Guard!
Survival Staff

- 1WhiteFang1 has been promoted to Mod++!


- CryptWarrior has been promoted to Mod++!


- TheBoop has been promoted to Mod++!
Event

- Gavot has joined the Event Team!


- Fumaz has joined the Event Team!


- 262ms has joined the Event team!
Forums

- AriesGrill has become a Forum Moderator!
Written by Gawky.
---
--|~News!~|--
KitPvP Highlights!
Besides a phenomenal new map built by @Hi_Im_Mikey, this month has been fairly quiet for Kit. That being said, some big changes are in Kit's future, and we can't wait to see what everyone thinks!
Written by Examiner.
Prison Highlights!


First of all, we'd like to recognise all of the players who made it to the leaderboards during map 6 of prison!

Top Ranked
#1 - 2086 - (XVIII)(A3)
#2 - Shoblette - (XVIII)(B2)
#3 - NuggetNed - (XV)(A2)
#4 - Remix1256 - (XV)(A2)
#5 - RedBloomingRose - (XIV)(B4)
#6 - VanillaVerse - (XIV)(D1)
#7 - zGESIN - (XIII)(A2)
#8 - joha4732 - (XIII)(D1)
#9 - bikeski - (XII)(A4)
#10 - WillowJ - (XII)(A3)
Top Mined Blocks
#1 - Shoblette - ~5,474,000
#2 - Slimecreepers - ~3,343,000
#3 - Remix1256 - ~3,255,000
#4 - obeyx3 - ~3,233,000
#5 - NuggetNed - ~3,135,000
#6 - mistressdiana - ~3,131,000
#7 - Luga456 - ~2,673,000
#8 - xKamilion - ~2,070,000
#9 - ingbjomar - ~1,990,000
#10 - ICantComboWombo - ~1,932,000
Note: leaderboard positions are as of the 4th of December (before they were influenced by staff members giving out items and money).

Thank you to everyone who logged onto prison on December 6th to celebrate the final day of map 6! All of the prison staff spent the whole day going crazy with abuse.
@TheRedVelvetCake
had a lot of fun blowing up people's cells,
@cheater
flew his pet enderdragon around spawn and all the prison staff gave out lots and lots of free crates and money with blue roulette rolls and emerald rushes!
Most of all, we'd like to thank everyone for the countless hours of grinding that has been put into this map! While map 6 will be missed, map 7 has so much in store!
Here are some of the highlights from the final few hours of map 6:












Welcome to the wizarding world of Harry Potter!

This month, prison map 7 was released with an entirely new inside and outside map (built by the incredible @blocker, @Hi_Im_Mikey and @igotchu) and with entirely new rare items (such as wands that perform some epic spells!!)
Prison Map 7 has been out for just over 2 weeks, and already some exciting features have been added to the game such as NEW LEGENDARIES AND ULTRAS, MYTHICALS and CHRISTMAS CRATES! You can keep updated on all new features, nerfs and buffs with /changelog in game!
To celebrate the holiday season this month, a Christmas Theme Cell Design Contest was hosted and judged by some of the prison staff! Christmas trees were put up in many cells with the hope to win a prize for the best cell! Thank you to everyone who entered, and congratulations to @BLOKBASHER, @DaanB100 and @ingbjomar for winning!

Lastly, here are the top ranking players of map 7 as of the end of December!

Top Ranked
#1 - Shoblette - (I)(A4)
#2 - KodiakJackZilla - (I)(B3)
#3 - TheBoop - (I)(B1)
#4 - ShreksBakery - (I)(C4)
#5 - RedBloomingRose - (A3)
#6 - BLOKBASHER - (A3)
#7 - obeyx3 - (A2)
#8 - ZachMcD - (A2)
(Also a special mention to FunnyJustCause, saladbutter, Gawkyy, Cyttt, xLuuk_, TSUTT_, ICantComboWombo, DeForst, DrownedInSound, NuggetNed, Ethro_Knight, PracticalJokes, DaanB100 and XplicitAssault who are all at rank A1).
Top Mined Blocks
#1 - Shoblette - ~4,211,000
#2 - ICantComboWombo - ~2,097,000
#3 - ShreksBakery - ~1,673,000
#4 - liambgames - ~ 1,141,000
#5 - PracticalJokes - ~ 1,137,606
#6 - RedBloomingRose - ~1,102,000
#7 - Cyttt - ~1,004,000
#8 - DeForst - ~1,001,000
#9 - FunnyJustCause - ~1,001,000
#10 - Kalex31 - ~ 891,000
Other
TSUTT_ has over 197,800 chests looted with 7 legendaries and 62 ultras found!
Napkin0fVembz has over 550 kills!
ICantComboWombo has the largest balance with over $44,000,000!
To view the leaderboards, click on the beautiful Antfrost NPC at /spawn!
Congratulations, and keep grinding hard!
Written by RedBloomingRose.
Survival Highlights!

Congratulations to the winners of the fantastic Enchanted Christmas Build Competition! The top three builds were INCREDIBLE and completely blew our judges away.
First place went to master builders Alithita and DragonsMaker, with their magical build: 'Drag and Ali's Enchanted Vil- OMG IS THAT A DRAGON?!' (It has a dragon)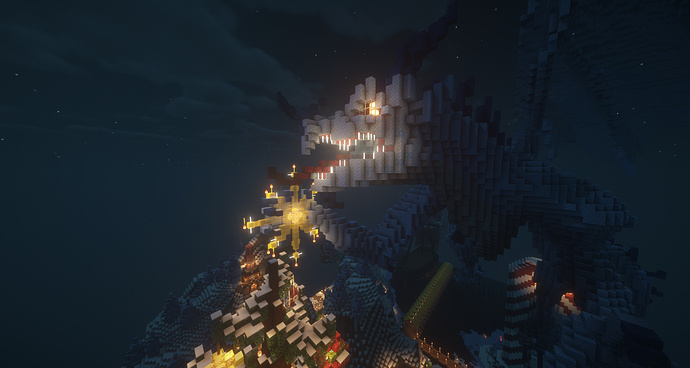 Second place was taken by dream team Hardah and MissHolliee with their beautiful 'Christmas Getaway' Snowglobe build.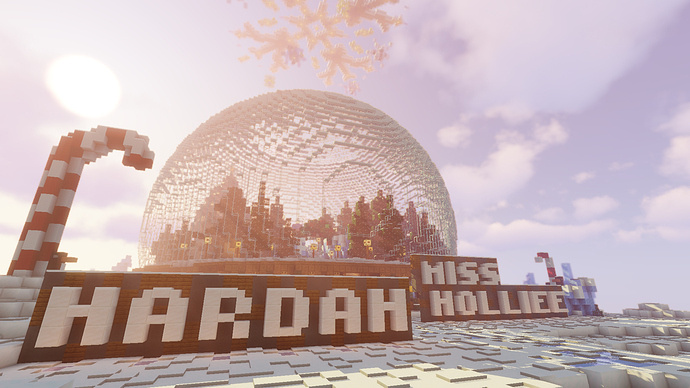 Third place went to the expert pairing of xLuuk_ and CJPuff and their incredibly christmassy 'Epic Note Block Song!'
Thanks so much to everyone who participated in this, was a blast. Keep your eyes peeled for whatever competition we will be announcing next!
---
General Server Updates
This month has been a busy one for the server.
The server updated to the latest version, 1.15 with BEES
Client support was added for 1.9 to 1.15, though the recommended version to play in is still 1.15.1
The World border was expanded to 12.5k blocks in all directions
MCMMO was updated to the newest 1.15 version
Behind the scenes, we have still been working hard on server performance, bug fixes and general improvements and maintenance. A few exciting winter themed features are planned to come out in the next sort while, so stay tuned for them!
Joining our beloved reindeer, the infamous Callahan, awesamdude will be taking on developing a few projects for survival so you might see him lurking on the server. Be sure to say hi and pretend that we're all nice and normal on here…
Written by Ibby.
---
And that is all for this month!
---
Thank you all for reading! We hope you all have an amazing start to your 2020 and your January! Until next month, munchies.
- Dishrespect