---
MunchyMC Newsletter: Edition 13 - December 2018
The newsletter has been running for a year now

and by now we know how this goes

and I don't know how to make a different introduction each time

let's get into the content.
---
PROMOTIONS!
@Baqel is our newest JMod

say congrats!
@ytaolfcm has also rejoined the Staff team this month

@Nikolas was promoted to Moderator

@FunnyJustCause is now an Event Team member

We've allowed several talented Builders to join our Build Team this month; congrats to @Ranger_Gilan, @Soarie, @Galactic_Wolf, @4ao, @Busky, @Dewster, & @Kenofox for making the team







(one for each of you, see)
We gave @y0shirocks Media this month

We added @BananaSkin_PVP, @Dishrespect, @Golfing8, & @Trimgay to our Idea Team

And @CatTech got Mod++ on Survival, how about that

---
Munchy Christmas
Thanks to the likes of the Builders, we got a nice revamp of the map with a theme to match the holidays

complete with incredibly annoying snowmen

and it was snowing too

image courtesy of the saints of games

In addition, @Galactic_Wolf took the time to revamp our hub, just in time for Christmas

and here's the makeover! He even got this neat little model thing; amazing what technology can do

.
Courtesy of Galactic_Wolf
so yeah, happy holidays

---
Another New KitPvP Map
There are never a shortage of Kit maps

just a day ago, we were delighted by a new map, this one orchestrated by @Clockyy with help from @YiexX, @_MythicalSheep, & @blokbasher. This build seems to adapt more of a tropical theme; be sure to commend Clockster for his great work on this project

They made the Easter Island Statue dude into a real thing




Images courtesy of Tech Gang #1 Inc.

---
The Event Team Continues to Slowly Lose Their Jobs
Callahan has now added two more epic automated events that the Event Team has no usefulness in doing now! Check out the epic events: KOTH and TnT Run! Host today!
---
2018.
If you know how to read a calendar, then you can see that 2018 is at its' end

. Throughout this year, Munchy has underwent many different events that ultimately shaped Munchy to have an amazing year. I gave our Staff the opportunity to share their favorite moments from this year, and there's a lot to cover. So listed below are the Staff picks for their favorite moment of 2018 for Munchy

---

Dy1an

"My favorite memory from this past year was the time Bad (@BadBoyHalo) got really drunk on TeamSpeak around 2 in the morning and said that he loved me like a brother. True story by the way, though he will deny it."
---

Siberite

"My favorite moment/event of 2018 was probably building events in front of the casual spawn with Clockyy (@Clockyy). Every so often we would build a parkour challenge or a tower of some sort where people would fight each other to have control of. For some reason it was really fun and satisfying to watch everyone fight each other on the structures you built. It was also a good opportunity to know a lot of people who play Munchy better."
---
LiamTBN

"Gotta be honest, Warlock (@Warlock505) getting Admin [. . .] he deserved it and he had it a long time coming. It was just something that made Munchy better by bringing him to the level he deserved."
---

oBears

"My favorite moment of 2018 can't be said as only one moment. It's happened multiple times throughout my journey as a Staff member. Hmmm… I'd say it's PvP'ing. Now to most people, this isn't too big of a deal–but to me, it's quite fun. Most of the time I'm in vanish supervising the server while listening to music. When I pop out of vanish and come pvp with the community, it really is a fun experience–I can become a player again. It's been a great year. Cats suck."
---

Gould_

"My favorite moment this year was when Treyy (@qAshley) and Spistro (@Spistro) came back for a few months, and we were able to reunite our friend group. It was what drove me to help the community as Treyy became an Event team member. I followed in his footsteps, and it was what got me to where I am today.
---

TheRedVelvetCake

"My favorite Munchy moment this year was starting a new relationship with someone that means a lot to me. And my favorite moment of 2019 will be meeting them IRL "
---

iiRaidz

"_My favorite hands down is my lil' furry friend Cyber (@leCyber) has been promoted to Sr. Mod and cheater (@cheater) came back with us to assist us as everyone did and still does love him and I am grateful for the both of them."

"cheater's art."
---

Nikolas

"Okay, so controversial but: The Thanos update in Prison (@Dream). Don't get me wrong, I had very mixed feelings on it at the time and wasn't so excited when I lost some of my hard-earned items, but I do get why it was added in the first place. I really liked it because it was just so enticing to me to see which items I'd lose and which I'd get to keep… I couldn't help but click and update all of my items and of course I was irritated at myself when I lost half of my stuff. That being said though, I was glad when it was reverted. Either that or when TheKindKitten (@TheKindKitten) helped me get to famous."
---

CookieDough777

"When I beat iiraids (@iiRaidz) in a 1v1 with yasuo; great moment right dere."
---

EsioTrot64

"Fortunately, I have had many good memories in my time being staff here are my 2 favorites:"

"In this photo we can clearly see cheater (@cheater) and Cyber (@leCyber) enjoying their time learning how to make their first redstone TnT cannon."

"However, a close second is when Krovus (@Krovus) and Finessedkid (@finessedkid) had a fun time hanging off a fence-gate on their beloved horses!"
---

MadInToilet

Best moments that I had this year are:

I have had a lot of fun playing and building with friends (Helping finish maps,Make new maps, etc.).
Skeppy bringing a lot of players onto the MunchyMC Network.
---

Khrome

"The best moment of 2018 would have to be that Munchy changed the way I act as a person IRL or online. Not only did Munchy make me a more mature person, but it also made me change from a person that was afraid to speak in class to a more outspoken person. Without the Munchy community, I wouldn't be the same person I was before. I want to personally thank Warlock (@Warlock505) , Antfrost (@Antfrost) and BadBoyHalo (@BadBoyHalo) for giving me a lot of chances. I am grateful that I am apart of a community that can be there for me whenever I need anything. Munchy was the server that brought me back to Minecraft since the downfall of MCPVP. I am sad that 2018 is over. But 2019 has more to bring for Munchy and I Just Can't WAITTT!"
---

lZayl

"My favorite moments this year range from things such as when I became Mod to when I helped out players with depression, among a lot more. Quite notable for myself is how hard I had to fight to make sure everyone I liked and love was okay and what I had to go through to get Mod, being on MunchyMC every day helping players and making sure everyone has a great time on Munchy, and especially eradicating the hackers that would try to ruin it for them."
---

ytaolfcm

"Okay, so my most memorable memory (if that's even correct) was this screenshot, purely because Warlock was one of 2 people who kept me going through this year and I'd mainly just want this to be my appreciation towards him. My year honestly was not so good which is why I don't have much else to say except Thank you Warlock (@Warlock505)."
---

Baqel

"My favorite memory has gotta be when Liam (@LiamTBN) , NoEffortName (@NoEffortName) , and I would talk in TeamSpeak. I remember it being so late at night and we would just be dying of laughter. Liam and I would turn the gain all the way up on our microphones and make quiet noises at NoEffortName and he hated it sooo much! Very good times."
---
Varmetek

"Favorite Munchy moment of 2018? The release of Prison map 5 (@Dream). Around this time, my life was stuck in an endless loop. I would try every day to get up in the morning just to continue the same cycle of school and extracurriculars, then sleep–all while keeping a recurring thought in the backstage of my brain reminding me to renew my cells. Sometimes losing track of time, I lost my cells one by one trying to maintain the fortune I earned when I could play. Eventually, the inevitable happened and I logged on to find that the cell I spawned into had 9 thousand minutes and wouldn't respond to my clicks on the door. My connection to the map was severed and that backstage voice slowly faded.

Some time later through a rumor, I heard that the map would reset again. I instantly felt energy and excitement and logged on to the forums searching every category looking for the official release post. Instead of studying for senior finals which would start within a week, I spent the day connecting with all my classic teammates to get them on-board for the next map. When the server finally opened, an entire night and morning that should have been spent studying for the coming statistics final was used going into the outside world hunting for ultra rares.

Eventually, the opportunities to say "I'll study later" became too few and I had to decide how to spend the last day and a half left before exams. By some weird will of responsibility I was able to break my addiction and focus on cramming a few final chapters of notes. After which I relapsed to my addiction of holding left click on digital cubes after a 6 month period of distance from the game. Needless to say, I've had fun ever since."
---

CatTech

"Munchy has had the pleasure of witnessing many fantastic changes this year. Something that I can proudly say made this year a great year–DODGEBALL! The Solo-Dodgeball event that was released this year seems to be something that never gets old. It is one of the fan-favorites that people beg for every day. It makes for fun competition, especially when I broadcast messages saying to target people (and consequently I would get targeted instead)! Simply never gets old; in a minute flat there can be up to 20 players running after the ball, launching it at each-other, and of course a couple of them would probably get kicked for trying to glitch the ball out of the arena, but it wouldn't be Munchy without those few devious children, am I right?

On a more ironic note, constructing the newsletters (like the one you're reading right now!) this year is a memory I can have pride in. Personally I believe it is detrimental for the community to connect with each-other, (especially between Staff and Player) and the re-capping and overall content that the newsletter provides is well efficient in connecting those dots. You've seen things like Staff Q&A's, spotlights, and polls, and they all provide the interaction that better connects our community. For example, the first person to reply to this newsletter with a cat laugh-cry emoji, a cat heart-eyes emoji, and a cat smiling emoji (eyes open) (all in that same order) gets a free kit or tag, on me!

I've personally seen myself grow this year, and Munchy has taken major strides in popularity. I hope we get to ride this wave far into 2019 and beyond and grow even bigger. Tech Gang #1!!!"
---

leCyber

"I'm somewhat of a discord junky, so I would say my favorite moment of 2018 was watching Bad's discord gradually rise to success. It was in a pretty big rut before we remodeled the management, and of course, Skeppy. At the beginning of the year, we had less than 200 members. Now we have almost 5000! As for a new years goal, I hope to see BadBoyHalo (@BadBoyHalo) become a discord partner."
---
GeorgeeeHD

"It's not really a moment or event, but instead a way of life. Making fun of Callahan (@Callahan) is my favorite thing to do and I encourage everyone else to give it a try if you haven't already!"
---

Callahan

"your mom"
---

LordBobby104

"The release of Survival was memorable for me. BBH (@BadBoyHalo) was the other primary person involved. Memorable because of all the hard work that went into planning and developing the server and seeing all of that being used and enjoyed by the player base."
---

Warlock505

"When Callahan confessed his love for me "
---

DreamAF

"Honestly I don't know. . .I think the space prison reveal was pretty cool."
---

Antfrost

"My favorite moment/event of this year definitely has to be all of the new players on the server via Skeppy's videos. Although the 14 spam is annoying, having a surge of new players brings back a nice feeling of nostalgia for me. Munchy used to be a decently popular server way back when I first joined in 2015-2016 and seeing all of these new players has certainly brought back some wonderful memories."
---

BadBoyHalo

"Having 250 players on kitpvp was pretty cool I really enjoyed seeing that the server could hold that."
---
---
---
2019?
| | |
On behalf of everyone that makes Munchy possible--the admins who run the show, the developers who keep new things coming, the moderators who support the players, the builders who bring creative change, the event members who give joy to the players, Callahan, and everyone else associated with the upstanding of Munchy, thank you for being apart of our community. Munchy is ultimately NOTHING without the constant support of the players that enjoy the server we work hard to maintain, and we have only the community to credit for the success brought to Munchy this year. We're already starting off the new year strong, and there are major developments that no one even knows about in progress. Prison Six? Survival Revamp? All the secret stuff to be revealed soon? It's all apart of 2019. We genuinely hope you keep on playing to see what's in store for Munchy this year. Big changes are coming very soon. Stay tuned.

---
BadBoyHalo New Years Stream - Summed up in 3 pictures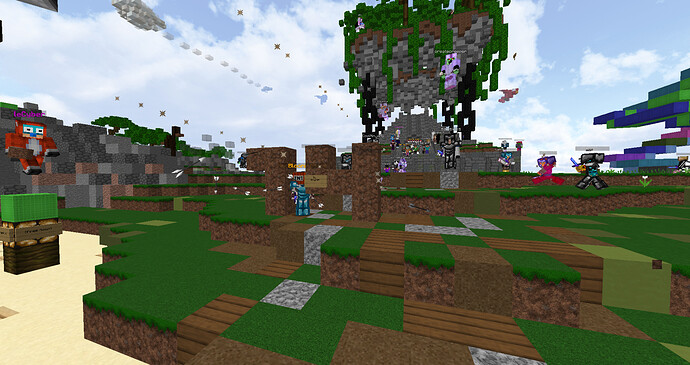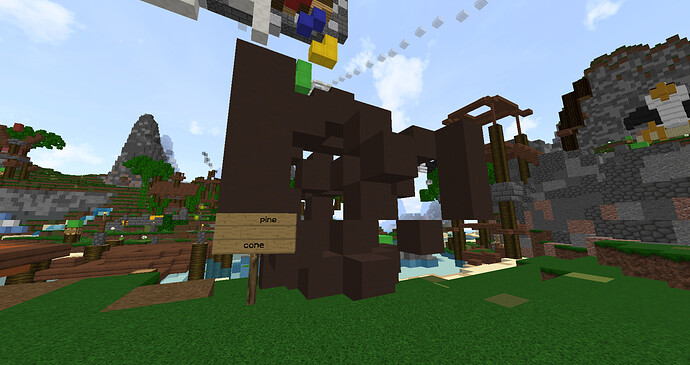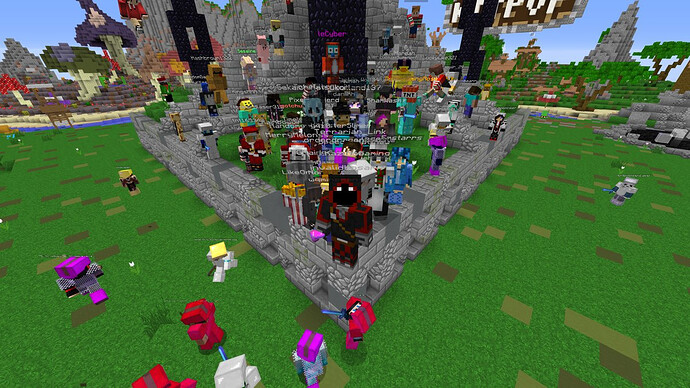 ---
---
---