IGN and past IGN's: Has always been littlefoot59, it's my only account
Timezone: Eastern Daylight Time
Discord username: littlefoot59#3561
How long have you played MunchyMC?: I'm quite new to the MunchyMC server

Please link a portfolio of all your most recent build projects: I don't have any links but I have one picture of a spawn I made today…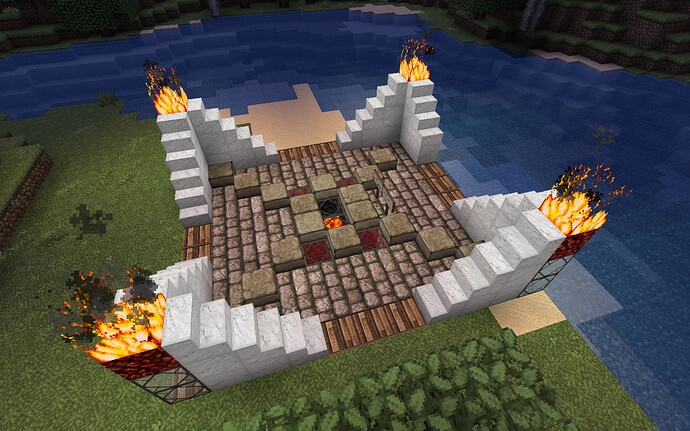 Please tell us more about your FAVOURITE and PROUDEST build: My favorite build was one that I made a year ago, sadly don't have a picture but it was of a whole spawn world someone and I made, it took us over 4 months to finish, we based it off NYC. Not as big as NYC but it was still cool. My proudest build would have to be the giant dildo I made in the center of the city just like the Statue of Liberty, and I made a giant theme park as well. Both took me about 3 days or so, each.
How experienced are you with World Edit, Voxel, and other relevant plugins?: I've never used them before, but I'm happy to learn how

Describe your build specialty and weaknesses (detailing, terraforming, structures, etc.): I love doing detailing to make things look amazing but I also love building structures like skyscrapers and buildings the most because there's no particular way it has to be. Building something like a dinosaur is a bit harder for me because I'm a hands-on kind of person so I'd have to make a drawing to reference in advance. I'm decent when it comes to terraforming but with extra time on it, I can make it perfect.
What is your history of building? Which build teams and/or servers have you worked for in the past? My history of building is not fantastic obviously, but I do build quite a lot in my spare time. I use minecraft building as a destress outlet for my anxiety. I've never worked with any build teams or any other servers before in the past, but I would love to try it out.

Describe yourself: I'm someone who can't stop until it's perfect kinda mindset. I have OCD so when I build it has to be perfect or ill scrape it and try again. I hate giving up on things I know I am capable of building. I can work with a group of people, though at first I will be anxious but I will get used to it and be fine after a week or so. I am responsible but I get anxious when I might let people down especially someone who trusts me. I would love to get experience working on a Minecraft server.