They look really good so far!! I think you could make the base a little wider. Also, the tree on the right would look awesome with more cascading leaves.
i think they are a bit plane
thanks for the advice! I'll see how they look after the changes and send updated images after
Edit 1: Here's some new images, need more advice on these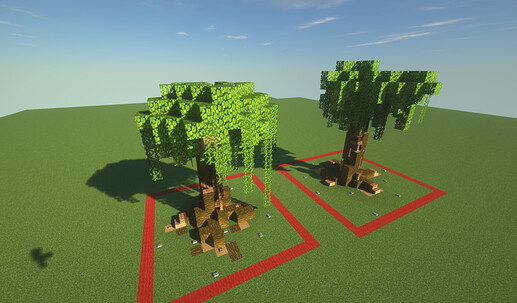 Cool trees. Try adding some more air blocks in them to separate some of the leaves from each other. I would also add some more leaves.
So I need to separate the leaves a bit more and add a few more leaves? got it, thanks for the advice!
They look great. Maybe play around with the shaping of the one on the right though.
I could help you, but first I would need the type of tree(Eg: Oak, Durian(Jungle), ETC.)
I think they look really good! I don´t know what you could change lol
Its like a type between jungle and swamp, and it's currently on my aternos server, only place where I can get VoxelSniper and WorldEdit to work correctly.
Jungle trees don't usually go straight up, they usually tilt to the side.
Swamp trees are straight though.
Maybe you could make it lean to the side a little bit, but also be straight.
Try using a combination of logs and leaves!
Maybe, I want it to be just right, It's for part of an build I'm doing, so I wanted it to be really good.
Thanks everyone for the suggestions though, I feel like my trees are becoming the best trees I have ever made!
Edit 1: I have made some edits to the trees based on suggestions!
Summary