The no teamer kit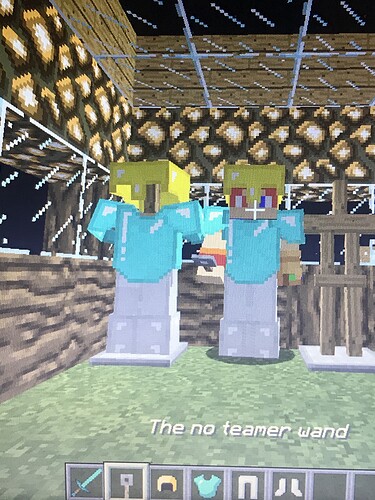 So as it says in the title the no teamer wand which is a tripwire hook is the item that you use to allow you to pick a total of 1 person.The range to make it so you can make it so it's just you and that person that you affected with the no teamer wand is 4 block to do it and so they get the message in their chat that (Username has affected you with the no teamer wand, you are not allowed to hit anyone else)so the person that used it will get the message(username is not teaming).
When someone host the no teaming event, the affect can't be used on anyone until the event is over.If that person you affected has not got hit by you within 15 seconds, the effect wears off.One more thing,When used the cooldown last for 25 seconds but when fighting/hitting the person effected your cooldown of the wand restarts
Btw while reading this I kept saying affect instead of effect so all the affects is effects.Hope you like this.
Edit:if anyone wants potion effects you choose idk what's a good potion effect.