IGN and past IGN's:
VINI_Z, DrunKittyADM, DrunKitty
Timezone:
Brazil GMT-3
Discord username:
IBGE#7574
How long have you played MunchyMC?:
I've been playing MunchyMC for a really long time, but I have never been an active member of the community, I remember when you had to join woolwars by jumping in a portal then selecting a game, it used to be one of the most popular minigames on the portuguese community, so everyone started joining MunchyMC because of the portuguese youtubers playing woolwars, I truly feel like the community is filled with skilled players, and I am sincerely a noob at pvp etc.
Please link a portfolio of all your most recent build projects:
I am currently working on a site for my portfolio but this is my current album for my projects and builds.

Please tell us more about your FAVOURITE and PROUDEST build:
I must admit, I cannot decide on my proudest build, I push myself to my limit in every build I make, so I feel like it enhances my abilities a little every time, picking one is really tough, but I must admit I feel like those 2 are really good and really shows what I am really capable of.
TREE STUMP, The Pit Lobby.
Buily by @DrunKitty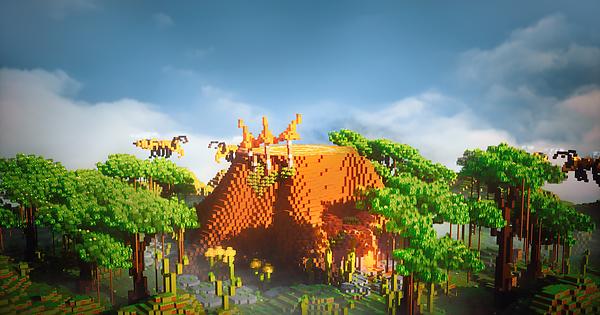 I am a builder at the StarDix network, and they really needed a ThePit area, so they assigned me to build it, at first I had the great Idea of a tree stump then they said it needed to have an inside, so I made a hole and some wasp cocoons on the sides, and wasps floating around the tree stump, I truly feel like this map is really enjoyable to play in.
ASTRALMC HUB, Hub.
Buily by @shyushiz @DrunKitty more…
I am a freelancer as well so there is a guy who needed a hub for his minecraft server and shyushiz was building it, most of the organics and terraforming was made by him and most of the structures and little details by me, the client got really happy about the final building although the rockets seems a little out of place he said he loved it!
How experienced are you with World Edit, Voxel and other relevant plugins?:
I am very experienced with World Edit, I feel like Voxel Sniper is just a side tool for me. I don't feel like it is much-needed when I am building, I do prefer to have some other plugins such as GoBrush and GoPaint, BuilderUtilities, HeadDataBase and all the Arceon plugins. They are really helpful and make the building process a lot easier and faster.
Describe your build specialty and weaknesses (detailing, terraforming, structures, etc.):
I feel like I am decent at everything I do, I do struggle a little bit more with big organics but I feel like it would not be a problem in a big team since everyone is here to help each other, and we are always looking towards improvement and the best project we can possibly make.
What is your history of building? Which build teams and/or servers have you worked for in the past?
StarDix
I am a Builder in the StarDix server it was one of the biggest Portuguese skywars servers in the past And although I do not have a builder tag I can join the building server and the staff rooms in the
teamspeak server, I feel like the StarDix server really pushed my limit on deadlines and I feel like it has been really good to improve my building and accomplishing my tasks in time.
BuildersRefuge
I am a Community Moderator in BuildersRefuge, and as a community moderator I do feel like my concern for the community is a must, I feel like the BuildersRefuge server gave me a lot of opportunities and I can't thank them enough, they gave me tools and space to build, and as a Builder I feel like the BuildersRefuge community really helped me to develop my building skills.
NightFeather
I was a Builder and Graphic Designer in the NightFeather team, we didn't build much as a group since not much longer after the team opened it closed, since both of the owners decided it wasn't worth their time and effort to keep up with the team etc.
Describe yourself:
My name is Vinícius but I prefer to be called Vieira, my second name or my IGN : DrunKitty, I live in Santos in the coast of São Paulo in Brazil, I am an extrovert! I consider myself pretty mature and respectful, I feel like all my past experience in moderating and in build teams really helped me to forge myself into a more mature person, I have a certain experience with leadership different from commanding people and giving instructions, being a leader is much more than that, you must be charismatic, and instead of making people work for you, work with people in vision of something, just like it is required when building, as I said before I consider myself pretty mature, for my age I believe I am a very well-rounded and mature individual, over the time I have been improving. Helping servers and playing either as a staff member or just a regular player forged me into becoming a more mature person. I am able to be mature when needed, while still having fun when I can. Due to the way I was raised I am very honest to people, if something looks not as good as it could be I would give advice and tell the truth to the person.